EntreNord Conference 2014 – Teach the Teacher
The 2nd conference on entrepreneurship in Nordic arts education, 13.-14. november 2014
Photography by Line Zachariasen, CAKI
CAKI wants to thank everybody who joined us for the EntreNord Conference and for contributing to create a lively and intelligent conference with new perspectives, intelligent debate, manifold experiences, inspirational cases and a great engagement.
Once again EntreNord made it clear to us that the field of entrepreneurship in Nordic arts education is characterized by a comprehensive and versatile mix of talented, brave and skilled educators. The conference was filled with new ideas, new knowledge and new tools within the field of entrepreneurial teaching from skilled educators, educational planners, artists and researchers – all of you sharing your broad knowledge on complex subjects, such as evaluation of entrepreneurship and the self-efficacy of the arts students.
The sharing of knowledge within this field has just begun. We strongly encourage each one of you to share your knowledge. First of all by sending CAKI cases or examples of courses, initiatives, teaching tools, and more. We will then upload your knowledge to the EntreNord platform kreanorg.org/entrenord, where you are able to search in an extensive list of courses, cases and examples.
We also encourage you to join the LinkedIn-group Entrepreneurship in arts education, a group which was created as a result from the EntreNord conference in 2012. For those of you on Facebook, there is also the Gathering Group to join.
This site will soon be updated with photos, texts and videos from the conference. You can also download the program and the list of participants. Video material from the conference and a conference publication is on the way and will be available within the next month.
The dialogue has just begun. We look forward to new collaborations, sharing of knowledge and partnerships across the Nordic arts educations in the future.
Please contact us if you have any questions or inputs regarding EntreNord.
Read publication about the EntreNord conference in 2014
(click on image)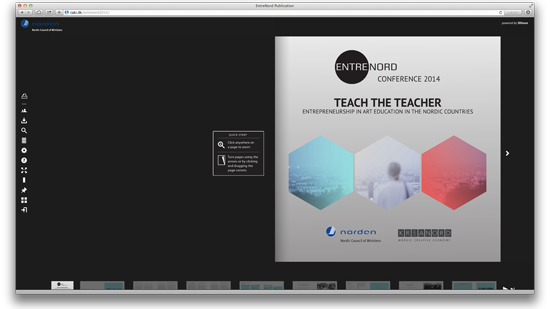 Read as well
The EntreNord Publication 2012
Partners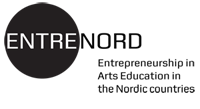 Downloads
Conference program
Meet the speakers
Invitation EntreNord 2014
List of Participants
Conference video recap
Presentations
Opening Speech
Video: Watch the opening speech by Denmark's Minister for Culture, Marianne Jelved
Keynotes
ETIENNE WENGER-TRAYNER
PDF: Learning in communities of practice
Video: Watch Etienne Wenger-Trayner's presentation
KLARA BJÖRK
PDF: Publicness and entrepreneurship – Master of Fine Arts in Film
Video: Watch Klara Björk's presentation
OSSI NAUKKARINEN
PDF: The Alto Case – Evaluating on entrepreneurial arts education
Video: Watch Ossi Naukkarinen's presentation
Breakout Sessions
LINDA LIEN
PDF: Predictable assessment situations
RIKKE LUND HEINSEN
PDF: Implementing and evaluating entrepreneurial skills
DÓRA ÍSLEIFSDÓTTIR
PDF: A relational assessment system
LINNEA DIMITRIOU
PDF: Keeping it real – Assessing hands-on entrepreneurship in creative education
Panel Debate
Speaks by the moderator
Video: Watch the EntreNord Intro by Pernille Skov and Pernille Berg
Video: Watch the Round-Up Day 1 by Pernille Berg
Video: Watch the Welcome Day 2 by Pernille Skov and Pernille Berg
Video: Watch the Round-Up Day 2 by Pernille Berg
Nordic Cases
Professional Portfolio
KEA i KEA
Trendspotting & Future Thinking
Gathering
Sliperiet
ASTEE
Video teaser
Conference teaser '14
Please also read
EntreNord Publication'14
EntreNord Publication'12
Relevant links