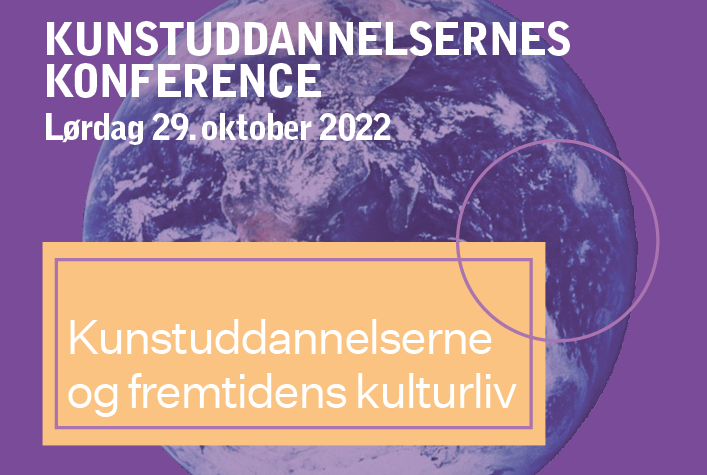 Lørdag den 29. oktober 2022 var de syv videregående kunstneriske uddannelser værter for konferencen Kunstuddannelserne og fremtidens kulturliv.
Konferencen startede med Gert Biestas keynote World-Centered Education – from Creativity to Sensitivity, hvorefter en række paneler og breakout sessions udfoldede sig i fem forskellige spor.
Det handlede om inklusion og diversitet, kunstnerisk entreprenørskab og medborgerskab, bæredygtighed, kunstpædagogik og kunstnerisk forskning som kulturel viden.
Det var en forrygende dag, som vi har samlet op i en publikation, hvor det er muligt at lytte til panelsamtaler og interviews, Biestas keynote, se en video fra dagen og få indblik i de indsigter, der opstod i de fem breakout sessions.
Hent publikationen her.
Gå til podcasten Kunstuddannelserne og fremtidens kulturliv. 
Se video recap fra konferencen.
BAGGRUND
Intentionen med konferencen er at undersøge de kunstneriske uddannelsesinstitutioners bidrag, roller og betydning i forhold til aktuelle og fremtidige kulturelle og samfundsmæssige strømninger og tendenser i samfundet. Konferencen tilrettelægges i et samarbejde mellem undervisere, dimittender og studerende på de syv kunstuddannelser, men alle er velkomne!

COFFEE & CROISSANTS IN THE STUDENTS` FOYER

 
Hang your coat, grab a cup of coffee or tea, and have a chat with a colleague, a student or an old friend –  or make a new acquaintance, while we wait for the conference to begin.  
You will be listening to the sounds and enjoying the performance of composer Cornelia Karlsson, and if you feel adventurous, you can try the romantic detective game Mind Diver. 
WELCOME!
OPENING AND WELCOME on Studiescenen 
Uffe Savery, Principal at The Royal Danish Academy of Music
Claus Skjold Larsen, Principal at Danish National Academy of Music and Head of KUR*
Niels Rosing-Schow, Vice principal at The Royal Danish Academy of Music until June 2022 and Head of the conference comittee
Pernille Skov, Head of CAKI – Center for Applied Artistic Innovation**
* KUR is short for the collaborative organisation of the principals from the seven art schools in the Ministry of Culture. 
** CAKI is a shared knowledge center for the seven art schools, working with innovation, entrepreneurship and cross disciplinarity.   
WORLD-CENTERED EDUCATION – FROM CREATIVITY TO SENSITIVITY
Keynote by Gert Biesta (NL) on Studiescenen
Professor of Public Education in the Centre for Public Education and Pedagogy, Maynooth University, Ireland, and Professor of Educational Theory and Pedagogy at the University of Edinburgh, UK. 
Moderated by Pernille Skov 
SOCIAL BREAK 
Performance by students' team from Dance & Choreography at The Danish National School of Performing Arts
POSITIONS OF THE EDUCATOR IN ARTS EDUCATION

 
A reflection salon about world-centered education
Hosted by Christina Holm Dahl & Line Fredens
A conversation salon, where we reflect on the position of the educator in arts education.
Following Gert Biesta's keynote, Christina Holm Dahl and Line Fredens will facilitate a conversation, where we ask each other and ourselves a series of questions about the educator's position in an art school:  
How can educators facilitate learning spaces, where we support the potential of future artists and cultural creators?

Are we aware of the extent of the role that art and artists play in society?

Which collaborations are possible in artistic practice in future?
REPRESENTATION & DIVERSITY
A panel conversation hosted by Anne Gry Haugland & Henrik Marstal 
Should the art schools lead the way in changing society's views on gender, ethnicity, social heritage and inequality?
Is there a need for new narratives in the arts, in the cultural sector – in society? 
A panel conversation to inspire and inform how the arts educations can engage with representation and diversity.  
The panel is Lina Hashim, Malene Flindt Pedersen & Sargun Oshana, in conversation with Anne Gry Haugland and Henrik Marstal 
SUSTAINABILITY IN THE ARTS

 
A panel conversation hosted by Jacob Teglgaard from Bæredygtig Scenekunst NU 
A conversation to inform how the arts educations can engage with sustainability issues such as climate, gender, ethnicity, economy and work/life balance.  
The panel is Juliana Hodkinson, Sarah Hellebek & Kenneth Balfelt
ARTISTIC ENTREPRENEURSHIP & CITIZENSHIP
A panel conversation hosted by Camilla Overgaard Rasmussen & Peter Bruun
A conversation about artistic citizenship and entrepreneurship as guidelines in arts education. 
What possibilities can be unfolded in the relationship between society and the artistic practice? 
Which role should the art schools play as cultural institutions in the future?  
The panel is Inger Eilersen, Kim Boeskov & Christina Rosendahl
LUNCH BREAK
Puppet Show by students' team from Rhythmic Music Conservatory in the Students' Foyer
WORKSHOP BY ANOTHER LIFE 
Join the conversation about representation, racialisation, inclusion & socio-economic diversity in the art schools. 
Hosted by Another Life
Rosa Lois Balle Yahiya and Sofie Westh fra Another Life facilitates a mini-workshop, where you are presented with tools and methods that can contribute to increased representation and less discrimination in the art schools. In order to create a common basis of understanding,  Another Life will present key concepts and  proposals for initiatives that can be used in practice. 
In addition, during the workshop we will facilitate mini-exercises that provide space for exchange of experiences, reflection and other inputs. 
SUSTAINABILITY IN THE ARTS

 
A workshop hosted by Jacob Teglgaard from Bæredygtig Scenekunst.NU 
Based on the concept of the Climate Salon, developed by Bæredygtig Scenekunst NU, Jacob Teglgaard facilitates a workshop on the broader understanding of sustainability in the arts.
Where are we now, where do we want to go, and which role should the arts educations play in relation to sustainability in the cultural sector in the future?
ARTISTIC ENTREPRENEURSHIP & CITIZENSHIP
A workshop on connections between artistic practice and society
Hosted by Camilla Overgaard Rasmussen & Peter Bruun
The workshop will explore the relationship between artistic practice and society. Based on cases from the practices of film director Christina Rosendahl and from Kristoffer Jessen, student at Rhythmic Music Conservatory, the participants in the workshop will discuss the following questions:
What are the possibilities of engaging with society through artistic citizenship in practice?

What role can art education as cultural institutions play in the future, and how can we get there?
ARTISTIC RESEARCH AS CULTURAL KNOWLEDGE
Workshop with Lucia D'Ericco and Adam Bencard, facilitated by Kristoffer Gansing from International Center for Knowledge in the Arts 
Moderated by Thomas Howalt 
The workshop will be dealing with the overall question of how the art schools can develop themselves as cultural institutions through artistic research. We do this by asking the questions:
–        What role should Artistic Research play in the art school of the future?
–        How can Artistic Research be an interface to society?
–        What kind of future knowledge does the art school and its graduates create?
SOCIAL BREAK 
Re-charge with a coffee or tea, explore some of the student's projects exposed around the conference space, and enjoy the tones of Gemini Duo
ROUND UP IN BREAKOUT SESSIONS
Recap from the panels and workshops: what came up, what do we want explore further together, where do we go from here? 
INSIGHTS & FORESIGHTS
Presentations from the workshop-sessions: ENGAGE, SUSTAIN, IMPACT, POSITIONS & RESEARCH 
Moderated by Pernille Skov
If the art schools are to contribute to a development of sustainability and representation as well as more artistic citizenship and use of artistic research as broader cultural knowledge in the cultural sector and in society, what does it require of the schools, the schools' management and the political level?
COURAGE
A panel conversation about the role of the arts educations as cultural institutions in the cultural life of the future 
The panel is Katrine K. Pedersen, Lene Andersen, Marcela Lucatelli & Steen Lindgaard
Moderated by Pernille Berg 
DRINKS & SOCIAL
Enjoy a drink to the tones from Patryk Szczechowski, percussion student at DKDM, while you chat with colleagues, students and new friends