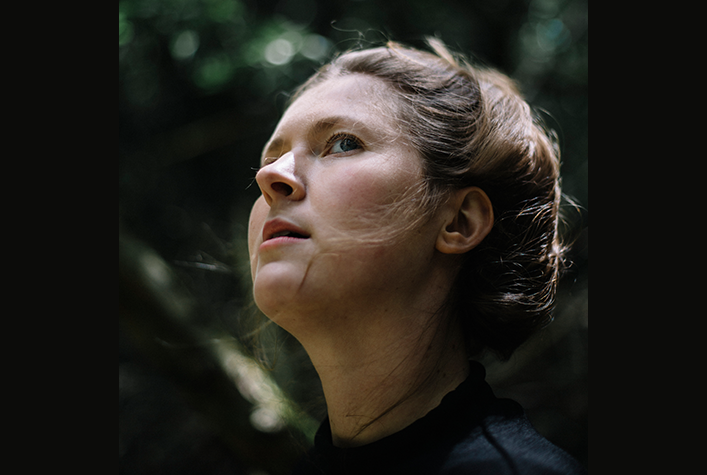 Foto: Hipermania
ZOLA MENNEÖH
ARTIST STATEMENT
My relationship to the voice is sacred, it is my teacher, my compass, my portal to entering a world of truth, a universe that is raw, pure and real. Music is the language I understand best. The two together, a bridge from my most authentic self to the world. When I sing I become.
In recent years, my artistic expression has been drawn to softness and delicacy, a process of unarmored and opening. In calm and slow movements, creating a space for restoration, and, to vulnerably speak the truth. In my work, I look for subtlety and dissolving boundaries, for the unity of gentleness and strength, fluidity and clarity.
My work is autobiographical, revealing, layer by layer the mysteries of my heritage, the ancestral stories my body and soul carry, transforming the stories, the suffering, the grief into something beautiful. A recurring theme of my work is belonging and the quest of existing in harmony, both as an independent individual and a part of a community, built on trust and freedom. My work and my collaborations are a practice of that.
The voice is the centre of my work, and from there I grow branches to acoustic instruments, organic sounds, strings, fabrics, video and colours, more and more evolving into a multi-dimensional expression, with a minimal æsthetics.
---
EXPERIENCE
EDUCATION
08/2018 – 02/2021 Advanced Post Graduate Studies, Rytmisk Musikkonservatorium, Copenhagen, DK 08/2016 – 06/2018 Master of Music Performance, Rytmisk Musikkonservatorium, Copenhagen, DK 10/2013 – 06/2014 Master of Vocal Improvisation, Hochschule für Musik Franzt Liszt Weimar, DE 10/2009 – 02/2013 Bachelor of Music, Jazzinstitut Berlin, DE
08/2007 – 07/2009 Bachelor of Music, ArtEZ Hogeschool voor de Kunsten Enschede, NL
PRIVATE STUDIES
2020 – now Eugenia Visconti (classical singing, Berlin, DE)
2017 – 2021 Sidsel Endresen (Improvisation, Voice, Composition, Text, Oslo, NO) 2020 – 2021 Nick Martin (Composition, Cph, DK)
2016 – 2018 Kim Myhr (Composition, Oslo, NO)
2017 – 2021 Jenny Hval (Text, Conceptional Art, Artistic Practice, Oslo, NO)
PROJECTS (Excerpt, recent)
2021 – today "A Labour of Love" (composer/vocalist, electro-acoustic Suite w/ Simon Toldam/Halvcirkel/paper sculpture/video, Cph, DK) 2018 – 2021 "A Labour of Love" (leader of an artistic research at the Rytmisk Musikkonservatorium, Cph, DK)
2018 – now "Of Cabbages And Kings" (composer/vocalist, contemporary vocal ensemble, Köln, DE)
2018 – 2020 "Duo Sonntag" (vocalist/electronics, electro-acoustic conceptual semi-composed improvisation w/ Guoste Tamulynaite, Oslo, NO) 2018 – now "Solo" (vocalist/composer, sound installation & live improvisation, for voice, electronics, sampling, visuals, rooms)
2018 – now "Longing For Belonging" (composer/vocalist, Debut w/ Johanna Borchert/Nicole Hogstrand/Lars Greve/Szymon Gasiorek, Cph, DK)
RELEASES
2022 2nd Solo Album 'A Labour of Love', (Mercury KX)
2020 Debut Album 'Longing for belonging', (Figureight Records) 2018 Siri Byrkjedal "Songs for restless world" (Guest)
2018 PRANKE "Monkey Business" (Staatsakt)
2017 Max Andrzejewski's Hütte und Chor "Gospel" (WhyPlayJazz) 2017 Featured auf Kurt Rosenwinkel "Caipi" (Heartcore Records) 2016 Expressway Sketches "Love Surf Music" (KLAENG)
2015 ZOLA RUN "Sirens" (Solo EP)
2014 Max Andrzejewski's Hütte und Chor "CHOR" (Traumton)
PRICES/GRANTS
2021 Initiative Musik Production 2nd Album "A Labour Of Love", DE
2021 Nomination "Best Vocal Album" Deutscher Jazzpreis for "Longing for Belonging", DE 2021 Artist Grant, MKW, NRW, DE
2020 Initiative Musik, Production Debutalbum "Longing for Belonging", DE 2020 Ensemble Grant NRW w/ Of Cabbages And Kings, Köln, DE
2020 "Auf geht's" Artist Grant, MKR, NRW, DE 2019 KODA Production "Longing for Belonging", DK 2017 Travel Grant (NO), Beckett Foundation, DK 2017 Study Grant, GVL, DE
2016 Study Grant, GVL, DE
2010 – 2016 Artist Grant, Yehudi Menuhin Live Music Now, Berlin, DE 2010 – 2013 Artist Grant, Rotary Club, Berlin, DE
2009 Nationalen Vokalwettbewerb, DE
TOURING (Excerpt)
Austria, Finnland, Croatia, Netherlands, Lithuania, Slovenia, Switzerland, Italy, China, Senegal, Oman, United Arab Emirates, Norway
FESTIVALS (Excerpt)
Jazzfestival Copenhagen, KLAENG (w/ Of Cabbages And Kings), Jazz Festival Alto Adige, XJAZZ (w/ Hütte und Chor, DE), Moers Festival (w/ Eve Risser), Week of Surprises, KIM Festival
WORKSHOPS
01/2019 "HOME LAB" by Creative Europe (Interdisciplinary Artistic Research lead by Luke Pell, hosted by "Imaginate" Edinburgh (SCT)) 02/2019 Text workshop w/ Jenny Hval, Rytmisk Musikkonservatorium Copenhagen, DK)
04/2019 Voice workshop w/ Theo Bleckmann, Köln, DE
10/2017 "Akkorderontræf" (International Improvisation Workshop lead by Kresten Osgood, Jyderup Høskole, DK)