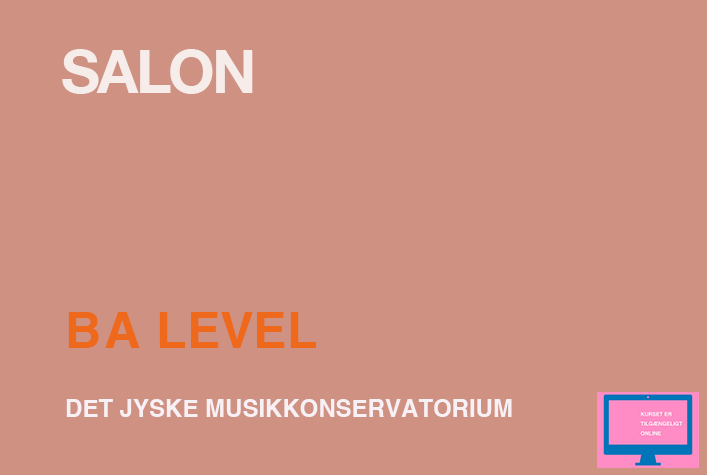 SALON

A salon is a "place where a circle of people with artistic, literary or political interests meet for reading, musical entertainment, discussion and socializing". Here we get together to share ideas and views, to be inspired and to inspire others. Here one can freely discuss and agree or disagree – to gain knowledge about oneself and others
---
PREREQUISITES
None
---
LEARNING OUTCOMES
Upon completion of the course the student:
Has acquired new cultural insights and has been challenged and developed his/her attitude
Has developed skills in focused and meaningful discussion
Has developed an open-minded curiosity and joy
Has found substance, spirit and wonder
Has found new ways to develop creatively and operationally
Can initiate and conduct a discussion as well as write a summary
Can advocate his/her profession and deed
Has a nuanced idea of future work as a musician, educator and "person of culture
---
TEACHING AND WORKING METHODS
There is no agenda other than, naturally, tuition includes subjects of music, art, culture and society. As a starting point, based on a number of examples and texts, we will discuss aspects of the different types of art where ideas "meet". But the intention is that everyone should be invited in with e.g. a text, a picture, a piece of music.
Writing will be included in the form of short essays, manifests or poetry. In addition, during the course, we will jointly design a logbook with the main observations and conclusions as well as templates for teaching courses that can be used in our own future teaching practice. During the course, the student actively participates through presentations, submission of small texts, analyzes, participation in discussions and preparation
---
GROUP FORMATION
12 students, maximum 5 external students.
---
ASSESSMENT
Certificate with the evaluation Approved/Not approved. This certifies that the objectives have been achieved at a level at least corresponding to a Pass, and that current attendance rules have been followed
---
REFERENCES
TIME
One semester BA: 2,4,5, or 6 th. semester to be agreed with the teacher.
PLACE
Det Jyske Musikkonservatorium
ONLINE
YES
NIVEAU
BA-level

ECTS
5 ECTS
LANGUAGE
Danish