The art schools' joint effort on internationalisation
---
​
A joint effort towards strengthened internationalisation
InterArt is a working group that was established by the Danish Ministry of Culture in 2019 and comprises representatives from the seven institutes of higher education under the Ministry. The purpose of InterArt is to develop and implement joint initiatives for the improvement of competencies and capacities that support the institutions' strategic efforts with internationalisation. The main task of InterArt is to increase and share knowledge in the field of internationalisation, which in turn will contribute to a general effort leading towards an improvement of competencies for these institutes of higher education.
The Royal Danish Academy of Music is responsible for leading this cooperation between the institutions.
Representation and cooperation
In addition to the independent efforts of the artistic education institutions, InterArt functions as a reference group and guidance committee, working both internally with member institutions and externally with ministries and other reference groups. InterArt also functions as a sector representative for the institutes of higher education under the Ministry of Culture and as such, engages in cooperation and dialog with the relevant agencies and reference groups in the education sector.
Implemented initiatives
InterArt was established in 2019, and since then, it has compiled an overview of internationalisation efforts of the seven institutions. It has also started initiatives in areas such as policy and strategy development, recruitment and profile improvement, development of intercultural competencies, as well as internationalisation and ethics.
The efforts of the working group have created a forum for the discussion of challenges to internationalisation that are common to all member institutions. Such a forum is beneficial for the institutions, as it contributes to the sharing of knowledge in the areas of participation in international educational programmes and general strategy and policy development related to internationalisation, diversity, inclusion, sustainability, and ethics.
The working group regularly evaluates and actualises existing and new initiatives.
Internationalisation as a fundamental requirement for artistic educations
Across all seven institutions of higher education, there is unanimous agreement amongst the managements that internationalisation is a requirement in today's artistic and educational landscape. The seven institutions are increasingly becoming part of a global world, where internationalisation is a necessity for the continued relevance of the provided educations. It is impossible to consider the relevance of an artistic education on the sole basis of a national perspective, and a global viewpoint is therefore crucial to justifying the existence of these institutes of education.
"It was once a strategic initiative – now, it is a requirement in a global world – internationalisation is now a form of normalisation . . . our schools are a part of the world."
 "We need to have an international component if we wish to develop the Danish music scene while at the same time remaining relevant to the world."
According to the leaders of these institutions, the necessity of a global perspective can be seen in the evident connection between internationalisation and the professional level of teaching and the artistic environment surrounding the institutions. The demands of international competition are intense, and it inspires teachers and employees at the Danish institutions to develop their competencies in order to be able to deliver quality teaching as seen from an international perspective. Successful cooperations with internationally recognised schools and partners call for an educational standard and talent pool that can only be created in an international environment.
"International competition raises the standard. For teachers, it means that they need to step up and develop their professional skills. We acknowledge that Denmark is a small country, and therefore, we must align ourselves internationally. One of the goals, which we pursue wholeheartedly, is to cooperate with the very best in the field…"
"The talent pool in Denmark is insufficient and has to be augmented with talent from other countries. Internationalisation contributes to raising the level of the professional artistic scene"
The necessity of internationalisation is also evident when considering that students no longer seek employment within Denmark alone. Students must be able to take part in professional collaborations globally. Additionally, the professional careers of most students after graduation is not one of permanent, full-time employment, but comprises projects, temporary and part-time employment, where contact to different artistic scenes and networks as well as competencies in entrepreneurship are essential factors that contribute to employment and the success of individual projects. Internationalisation is therefore an important means for the students to expand their personal network and create future employment opportunities.
"It is a great advantage as a student to be part of an international environment, and it gives access to the rest of the world, and you can create a good network which will be useful in future."
"You gain fundamental insights into how you interact with others, participate in international competitions and cooperate across boundaries."
---
Balancing dilemmas and conflicting demands
When working with internationalisation, many educational institutions encounter dilemmas and conflicting demands that influence relations with the rest of the world, cooperation between institutions, as well as the institutions own profile. In practice, institutions are often forced to choose between two priorities instead of pursuing both. Some common conflicting demands are: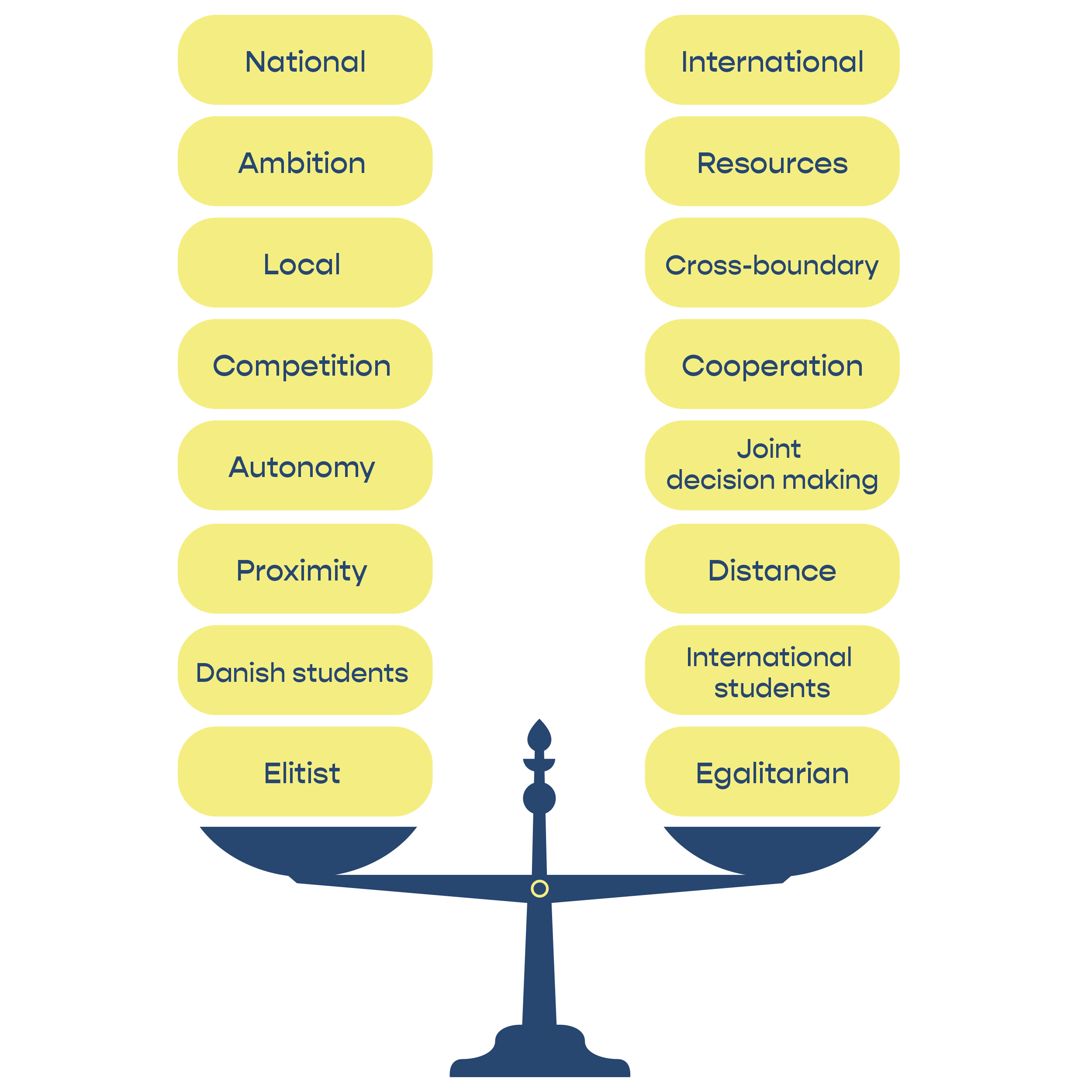 One of the common issues faced by the institutions when focussing on internationalisation is aligning themselves internationally and nationally. This is often viewed as a difficult balancing act between two opposites, affecting both institutional self-awareness and communication with the surrounding professional environment.
"Outwardly, we acknowledge that we are a Danish institution of education, and the official language is Danish – our main goals are to educate future members of the Danish music scene. However, at the same time, we must have an international perspective."
Another common issue is the discrepancy between resources and ambition. Expectations of internationalisation efforts are often disproportionate to the amount of time and resources available within the organisation. Internationalisation is rarely a straightforward initiative, but one that depends on evolution within and support from the entire organisation. For example, if an increase in teacher exchanges is desired, the management must consider strategic issues and allocate the necessary resources. The administration will have to manage assets and provide guidance and coordination, the faculty must develop and maintain mutual professional relations, and individual teachers have to plan teaching content and execute the exchange, often requiring additional time and effort. If the necessary professional, administrative, and strategic transformations are to be achieved, these efforts have to be considered in relation to one another, and all relevant aspects must be provided with sufficient support.
Ambition and resources are also related to other essential dilemmas. The balance between an elitist and an egalitarian approach is a consideration of when and to what extent the institution is able to invest in target areas and attract the best students internationally. This comes at the expense of a broader focus on the general artistic environment and nurturing future students. Offering world-class educations demands a focussed and lengthy investment and a study environment with a large proportion of international students and teachers.
"If we are to offer an elite education, we have to have a large number of international students."
"If we want to be world-class, we must have a focus that is world-class."
Dilemmas and conflicting demands can also be seen in the InterArt cooperation. A number of the institutions compete in attracting the same students and thus have to position themselves in relation to the other institutions. At the same time, they have to work together and participate in collaborative networks and projects. Internationalisation is a competitive parameter that characterises international cooperation. However, due to the relatively small pool of potential students within the country, competition on a national level can be extremely intense.
Requirements and focus areas
---
The general consensus across all seven institutions is that it is beneficial to pool resources while taking into account institutional differences, scale, and experience. Additionally, there is a potential for cooperation with regards to a number of different focus areas related to internationalisation.
In order to meet the challenges that are a part of the institutions' mutual cooperation, a joint understanding of requirements and focus areas was created in December 2019, as a fundament for the work of InterArt in the next three years. Within InterArt, there is a clear expectation of meeting the requirements, as well as an awareness of the need to continually actualize focus areas and activities.
Requirements
Joint vision across all institutions regarding internationalisation
Joint strategic focus areas within internationalisation
Positive relations between institutions
Organisational structures that support the cooperation
Sufficient time and financial resources
Cooperation based on concrete joint initiatives and projects
Will and intent to cooperate
More direct involvement of teachers and students
Themes for focus areas
Supporting the well-being of international students
Study culture and environment
Intercultural competencies
International network, cooperation agreements and hosting activities
Branding
Exchange for teachers and students
Erasmus+ administration and fundraising
Distance Learning technology
Strategy development
Language policy
Internationalisation and the UN Sustainable Development Goals
Nurturing a broader understanding of the purpose of internationalisation internally and to the institution's professional and artistic environment technology
Strategy development
---
Working method and position
---
Four meetings will be held every year to evaluate and actualise existing and new initiatives. Additionally, the Working Group plans to conduct a yearly seminar for the members of InterArt and external participants, in order to evaluate the general work of InterArt, and discuss future initiatives.
The Royal Danish Academy of Music coordinates the daily work and is responsible for secretarial duties.
In addition to the independent efforts of the artistic education institutions, InterArt functions as a reference group and guidance committee, working both internally with member institutions and externally with ministries and other reference groups. InterArt also acts as a sector representative for the institutes of higher education under the Ministry of Culture and as such, engages in cooperation and dialog with the relevant agencies and reference groups in the education sector.
---
Overview of competencies in InterArt
INFORMATION ON INTERNATIONALIZATION AT THE KUR INSTITUTIONS
The following 'Competence overview' briefly describes the work with internationalization at the seven artistic educational institutions that make up the working group InterArt, based on the following categorization:
Name, title, educational background and function

Units / persons dealing with internationalization

Special focus areas according to internationalization
Download 'Competence overview'  here.
---
Steering group for internationalisation (INTER ART)
The Royal Dansih Academy of Music: Marianne Løkke Jakobsen (project manager)
The Danish Film School: Kristine Plough
The National Danish School of Performing Arts: Helene Bæk Kortegaard
The Royal Danish Academy of Fine Arts: Emil Leth Meilvang
The Royal Academy of Music: Keld Hosbond
Rhythmic Music Conservatory: Morten Tandrup
Danish National Academy of Music: Jesper Asp
Contact InterArt international@dkdm.dk