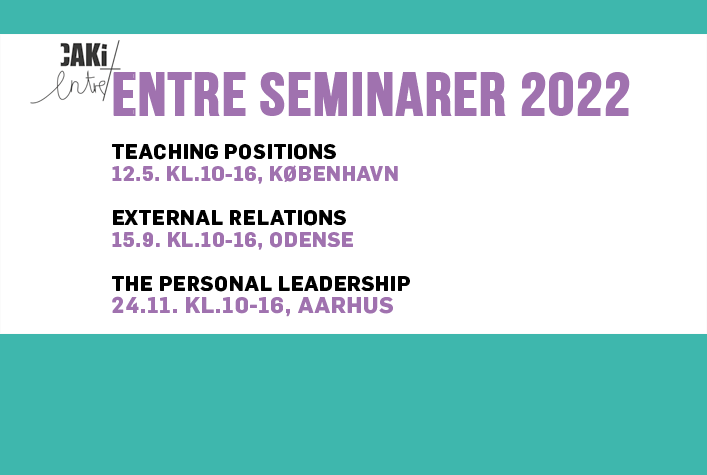 ---
The year 2022 offers three interrelated ENTRE seminars
In 2022, the headline on the ENTRE program is 'Sustainable Working Lives'. Along the way, we unfold questions about e.g. the sustainable arts of the future, worldviews, release formats for artistic practice and teaching positions.
---
TEACHING POSITIONS            
12. MAJ kl. 10 -16pm, The Danish National School of Performing Arts, København                      
Facilitator: Christina Holm Dahl.
Oplægsholder: Hanne Leth Andersen
Hvordan arbejder vi med underviserpositioner undervejs i uddannelsen i relation til de bæredygtige kunstnerskaber? Skal man være ekspert, guide, vejleder, sparringspartner, og hvornår skifter rollerne? Er der situationer, hvor de studerende har større praksisviden end underviseren, og hvordan påvirker det underviserens rolle?
Hvordan vejleder man til at bevæge sig ind i et arbejdsfelt, hvor indgangen ser en del anderledes ud, end da man selv startede?
---
WORLD VIEWS – CONTEXT PERSPECTIVES      
15. SEPTEMBER kl. 10 -16pm, The Danish National Academy of Music, Odense                      
Facilitator: Christina Holm Dahl.
Oplægsholder: TBA.
Hvilken scenarier kan vi forestille os for fremtidens kunstnerskaber og kunstpædagogiske praksisser? Vi udfolder samtalen om bæredygtige kunstnerskaber gennem omverdensperspektiver på kunstnerisk praksis og virke og spørger til, hvor kunstnerskabet placerer sig i det arbejdsfelt, vi ser i dag, og hvordan og under hvilke betingelser man kan finansierer fremtidens kunstneriske praksisser.
---
THE PERSONAL LEADERSHIP OF THE STUDENT
24. NOVEMBER kl. 10 -16pm, The Royal Academy of Music, Aarhus                      
Facilitator: Christina Holm Dahl.
Oplægsholder: Lene Tanggard
Om at være facilitator for de studerendes skabelse af sunde og bæredygtige arbejdsliv. Med udgangspunkt i viden og samtaler fra de første to seminarer ser vi på, hvilke former for initiativ, der er behov for hos den enkelte studerende. Hvad skal der være i værktøjskassen – udover et professionelt håndværk og en stærk kunstnerisk vilje og ambition? Og hvordan understøtter man som underviser sine studerende i den erkendelse og tilbyder de konkrete værktøjer undervejs i processen?