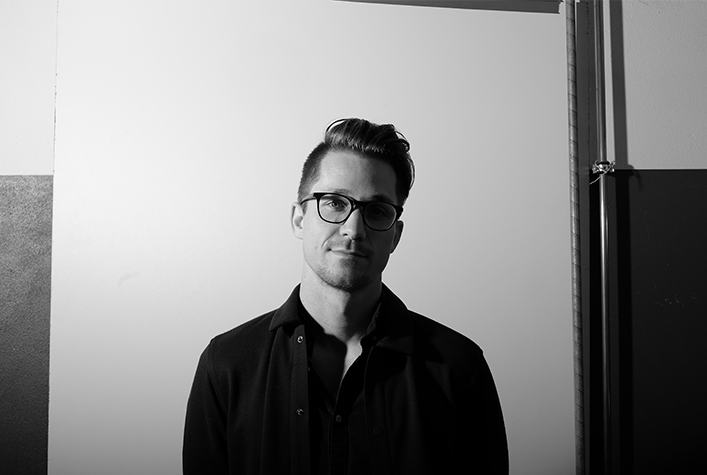 Foto: BM Jacob
MORTEN POULSEN
ARTIST STATEMENT
// Morten Poulsen, 2021
My artistic practice concerns itself with listening and spaces and situations where critical listening can take place.
I work with sound art, not as a technological or phenomenological study, nor necessarily as music or sound-in-itself as the end product. Rather, listening in my artistic practice is a working method through which to explore and process selected socio-political topics, such as questions on gender, power relations, or the environment. I am interested in the characteristics of sound and listening to be invisible, intangible, and ambiguous, but also changeable, intersubjective, and with an ability to create potential worlds. I believe that such a sounding and listening practice might afford insight into ways of relating to the equally invisible, complex, and interdependent social and political structures. Within the international sound art context, a growing field of researchers and artists have pointed out how sonic practices relate to political contexts. In concordance, I believe that critical approaches to sound and listening hold great social transformational potential.
In both my artistic practice as well as personally, I have come to develop an understanding of how the crises we find ourselves in are interconnected; human-made
climate change, structural racism, increasing inequality, loss of biodiversity, etc. The need for protest, resistance, and a change of paradigms has only been exacerbated by the pandemic. This has led me to work with art that articulates and responds to this emergency.
On this foundation, I am interested in engaging my artistic practice in examining and criticising socio-political structures and conditions. At the same time, I want to nurture, suggest or inspire ideas and approaches that contribute to the necessary change and transformation. My current practice focuses on the connections between sound art, activism and research into masculinity, feminism, and critical whiteness studies, to create a framework for critical reflection and a process of liberation or transformation from hegemonic ideals.
---
EXPERIENCE
Education and courses (selected)
2021         Enhanced Practices, International Center for Knowledge in the Arts CPH
2021         Cand. Musicae, Rhythmic Music Conservatory CPH
2019         Experimental Music, Universität der Künste Berlin DE
2018         Audio-visual works, The Danish National School of Performing Arts DK
2014         BMus, The Royal Academy of Music Aalborg DK
2013         Prince Claus Conservatoire Groningen NL
Trans-disciplinary work (selected)
2021         You Are My Sunshine (public installation) – Aalborg Kommunes Kunstfond
2021         Unhearing the White Voice (solo exhibition) – C4 Projects, CPH
2021         Listening with… (live-streamed sound-walk) – Walking Landscapes KIT, CPH
2021         The White Voice (text/Socially Engaged Art) – various locations
2021         Are you okay? (Lock-down conversations) – online
2020         Dark Web (internet performance) – Kunsthal Aarhus
2019         Nothing to See (solo exhibition) – ArtRoom/1000Fryd, Aalborg
2019         Domestica (sound object) – Kunsten Museum of Contemporary Art, Aalborg
2018         Sub (sound installation) – Nature Summit, Hirtshals
2016         I Am Human Too (audiovisual performance) – FAA Project room, Odense
Compositional work (selected)
2019        The Re-Occupied Bunker – Nature Summit, Hirtshals
2018        AR I-IV – Open Days Festival for new music and sound art, Aalborg
2018        Atmosphaera – audiovisual quadrophonic concert-performances, DK
2018        Jazz Iterations – Meutiviti Festival, Aalborg
2017        LR – Open Days Festival for new music and sound art, Aalborg
2017        Miles Davis Trio – Meutiviti Festival, Aalborg
2016        Dark Web – interactive internet-based music release, online
Discography (selected)
2021        Music from 'Unhearing the White Voice', independent
2017        RIGHT! by Morten Poulsen Trio,  on Outrovaert
2016        Aerodynamics Pt 2 on The Wire Tapper, The Wire
Awards and Artist Residencies (selected)
2020        Artist in Residence at Inter Arts Center, Malmö SE
2019        Artist in Residence at BEK, Bergen NO
2018        Artist in Residence at The Danish Institute, Greece GR
2017        Talent Award, Kulturpris Aalborg
2017         Artist in Residence at WORM Studio, Rotterdam NL
2017&18   Artist in Residence at EMS, Stockholm SE
2016        Artist in Residence at Suoni De Monte d'Oro, Abruzzo IT
Other (selected)
2021        U-Lydig (experimental sound and listening workshops), CPH
2020        Press responsible and Head of SoMe at Between Music
2018        Project director for the audiovisual concert performances Atmosphaera
2018        Director of Meutiviti Jazz Festival 2018
2015-       Underwater-drummer at Aquasonic by Between Music