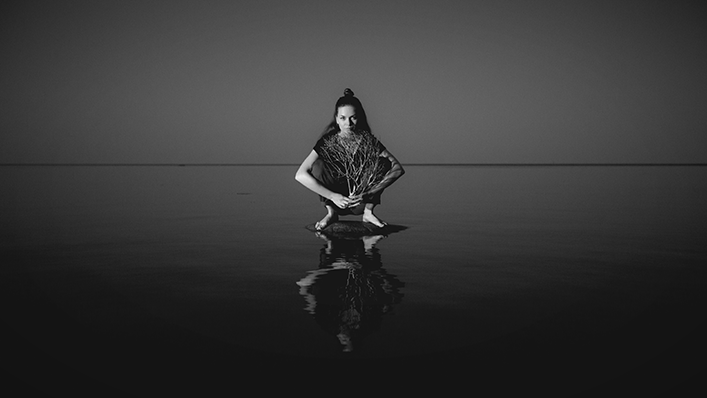 JUDITH PARTS
ARTIST STATEMENT
I am a musician, composer and music producer from Estonia based in Copenhagen. I sing and play the violin and have a deep love affair with microphones. My inspiration always comes from the sound itself – whether it is the voice, the violin, random objects, a construction site or a synthesizer.
I find another source of inspiration in the beautiful nature of Estonia. Travelling and living abroad have only strengthened my connection to my secret corner of the world. It is the place where my feet connect strongest to the ground beneath me. I'm fascinated by the giant forests, native plants and flora of Estonia, many of which contain healing properties. This has sneaked into my music in different ways. For example, I have been writing lyrics about plants growing in Estonia that have a special meaning to me.
My practice has multiple sides to it. I have a solo project under my own name, and I compose and produce in collaboration with other artists. I have created music for theatre and dance performances and multimedia installations.
I love to combine acoustic instruments with electronic sounds and field recordings. At the moment I am in the middle of finishing my first full-length album, where I combine experimental pop songs with melancholic instrumental tracks.
I'm drawn to music and sound as powerful mediums to express complicated emotions that are difficult to put into words. Ultimately, I hope my music can make people feel less alone. I feel like releasing music is an extremely vulnerable thing to do. I aim to release more and more non-perfect music, opening myself and my art to reflect the wonderful and terrible imperfections that make me human.
EDUCATION
2019-2021 Rhythmic Music Conservatory (master program in Music Creation) 
2018 Helsinki Metropolia University of Applied Sciences (music producing and song writing) 
2014 –2019 University of Tartu Viljandi Culture Academy (sound engineering) 
2011 – 2012 Estonian Academy of Music and Theatre (musicology) 
2002 – 2011 Tallinn Music High School (classical violin) 
1998 – 2002 Tallinna Ühisgümnaasium 
DISCOGRAPHY
SOLO PROJECT
BAND PROJECT
2016-2018 Forming a band called Nebula Flowers where I was the composer, singer, violin player. 
Watch on Youtube or listen on Soundcloud.
WORK AS PRODUCER/ COMPOSER/ MUSIC DIRECTOR
2020 Vocal producer, co-producer, mixing engineer – Maris Pihlap's debut album "What have you become?" (a young Estonian artist). 
2019 Music and sound design for a ceremony for opening the Christmas time at the Tartu Town Hall square. 
2019 Sound design for Erik Alalooga performance "Spiraalmüsteerium" in Viljandi, Koidu seltsimaja big hall. 
2019 Creating a sound and light installation with Jari Matsi (light artist) at Kanuti Gildi Saal in a month long residency.
2019 Creating a sound and light installation with Jari Matsi (light artist) for LiLu light festival in Luzerne. 
2018 Creating music (7 songs and many smaller instrumental pieces) and sound design for a theatre play called "Kohtume kell 8 Noa laeval" at one of the national theatres in Estonia called Ugala theatre. 
2018 20.08.2018 "Saja-aastane öö" – Creating live music and sound design for a huge outdoor event in Pärnu for the birthday of the Estonian Republic 100. There was 700 people on stage (dancers and actors). 
2018 Making music and sound design for Brite Vilgo's short dancemovie called "KIUB".
2017 Music director and composer for the University of Tartu Viljandi Culture Academy 65th birthday gala "Südamerütm" ("Rythm of the heart"). 
2017 Arvamusfestival (Opinion festival). Creating music for an installation "Ruuminihe" by Jari Matsi. 
COMPETITIONS AS A COMPOSER 
2018 First prize in the competition organized by the city of Tartu. They were looking for a new musical piece for a bridge (Kaarsild) that has a sound system. My piece was called "KuuleKuuLuule". 
2017 First prize in the competition EV100 (Estonian Republic 100) with a folk tune arrangement. 
2016 First prize, competition for the audience call music in NUKU theatre in Tallinn .
MUSIC FOR DANCE PERFORMANCES
2018 Hiiumaa tantsufestival (Hiiumaa dance festival)– Working with a choreographer Karoline Suhhov. Making music and sound design for a performance that used dancers in the age from 15-19. 
2017 "The Matter of Reflection" 
Creating music (some of it live using a contact microphone and Ableton Live) for an experimental dance and multimedia performance directed by Anni Zupping. 
2016 "SUHE" ("Relationship") 
Creating live music (using the violin, my voice and ableton live) for a dance performance directed by Jelena Melts 
2016 "Suitsune transs tinapaberis" ("Smoky trance in foil") 
Creating music (some of it live using a contact microphone and Ableton Live) for a dance performance directed by Karoline Suhhov tantsuetendusele"