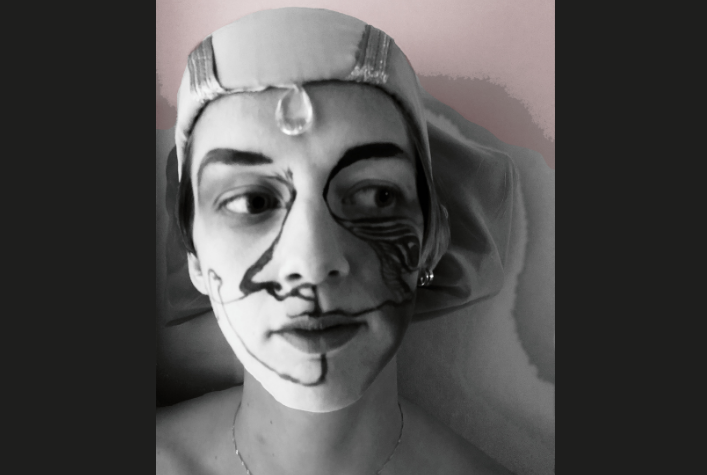 AGNES KOFOED CHRISTIANSON
ARTIST STATEMENT
Agnes Kofoed Christianson is a composer, singer, and creator of concert performances. The multidisciplinary pieces vary between her music, theatrical poems and visual embodied language. Theatrical avant-garde compositions with free tonality and Arabic scales which she performs and shapes with different ensembles and contexts.
Agnes grew up in a theatre and opera environment and has always worked with expressions from the art forms in her context and musical world. She uses multilingualism in many of her works, which play an important role in her work and daily life. Agnes is creating and directing her theatrical music projects and has done work with improvisational musicians, chamber orchestras, musicians within Arabic music. Worked with new music for composition assignments and as a composer for theatre performances. She has done collaborations with theatres, actors, dancers, filmmakers in Sweden, Denmark, and Egypt.
Agnes has always been interested in surrealism where dreams and absurdity create the story, humour, and beauty. The revolutionary experimental artistic community which surrounded big parts of the world in the early to mid-1900, she sees as a very central era for her work and strengthening in her will to shape that strong art society today.
---
Kandidat, sångerska och musiker – Rytmisk Musikkonservatorium, Köpenhamn (2017-2021)
Arbetslivserfarenhet
Konstnärlig ledare, Lynx Performance som grundades 2016
Konsertföreställningar:
Alraman amana konsertföreställning (SWE/DK/NO/ICE) (2021-), Trio Alaysia (SWE/DK) (2019-), Rawa Ensemble (SWE/EGY/TUR/SER) (2019-), Aganche Lynx performance konserter (2015-2018)
Film:
Yassine – Stuck on screen!, Sverige, Egypten (SWE/EGY) (2020)
Dans, konsertföreställning:
The Garlistic Foundance – En melankolisk varité (SWE/SYR) (2016-2017) (Lynx Performance föreställningar har framförts i Sverige, Danmark, Norge, Egypten)
Kompositionsuppdrag – Unga Svenska Tonsättare, Scenkonst Sörmland (2021)
Regissör, kompositör – "Malalai – The Girl Who Defeated The Dark Shadows", Teater JaLaDa (2020)
Skådespelare, musiker – "Tyst" på turné, Teater JaLaDa (2019-2020)
Kompositör – Samarbete med pianisten Karin Johansson, Västerås Konserthus (2019)
Kompositör, sångerska – Samarbete med Malvakvartetten, Konserthuset i Stockholm (2018)
Kompositör för teaterföreställning – "CallaMilo och Nattens Port", Teater JaLaDa (2018)
Pedagog i musikalisk scenframställning – Elever studerande klassisk musik, folkmusik, Musikhögskolan i Malmö (2018-2019)
Kompositör för teaterföreställning – "Vaddå, Hem?!", Teater JaLaDa (2017)
Regiassistent – Bruksspelet i Klippan (2013-2018)
Skådespelare, kompositör – Boulevardteatern (2012-2014)
Work-shops
Sånglektioner i traditionell arabisk musik med lärare: Kamilya Jubran, Mohammed Antar, Tamer Abu Ghazaleh, Hanan Mady, Shereen Abdo (Kairo, Paris, Köpenhamn) (2017-2021)
Teaterträning, Malmö (2015-2016)
Dans work-shops i Gaga, modern dans, folkdans (2007-2021)