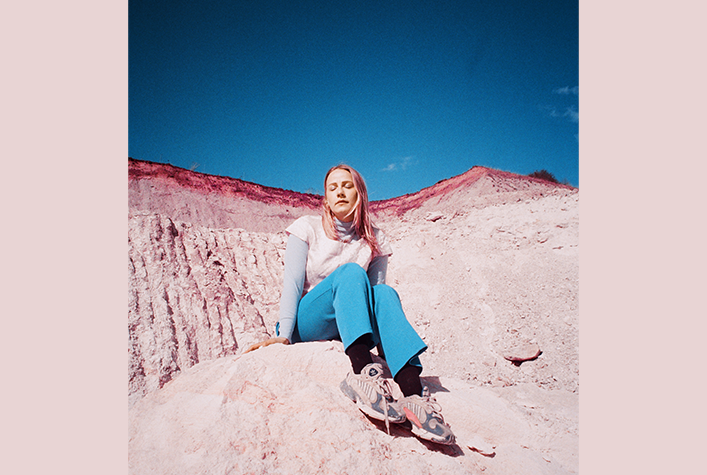 THEA EMILIE WANG
ARTIST STATEMENT
"There is something wonderfully unique in Thea Wang's solar system. With a deep intensity, random encounters, loneliness and love transformed into sonorous short stories that open doors into others lives, where we get to be guests for a little while. Melodic pop songs take unexpected leaps and fit her magical voice perfectly, electronics and samples are helping to modernize a traditional acoustic singer-songwriter genre at the same time as Joni's heartbeats behind it» – Jan Tore Skråmestø
I am a hard-working creative artist with a distinctive vocal who has long and broad experience in composing and performing music and lyrics. In addition to performing my own music and lyrics, I've also been writing music for short films, storytelling performances, together with and for pop artists like Rebmoe, RUBEN, SKAAR, LOKØY and Amanda Tenfjord, and I have toured with artists domestically and abroad such as with SIGRID, "Fargespill Bergen" and Konradsen. I have a voice with direction, and an ability to make people think, and stop for a while when I sing or perform.  "I will always remember that this is where I heard Thea for the first time. We both do storytelling, which touches others» – film-director Erik Poppe.  Through my music and meetings, I have established professional relationships with many musicians, producers and key people in the Norwegian music pop industry as well as in the Norwegian Jazz scene. I have played in various recordings and my debut solo album "While he is still asleep" with released in 2022 by MADE records.
EXPERIENCE
Professional experience
Thea Emilie Wang 27.02.93
Org: 912 325 075
København, Indre by (pdd, frem til desember 2021)
Sanger/Låtskriver/Artist/Musiker/Komponist
Jeg er en hardtarbeidende kreativ kunstner og låtskriver med en særegen vokal som har lang og bred erfaring med å komponere og fremføre musikk og tekst. I tillegg til å fremføre egen musikk og tekst, og skrive musikk for kortfilm og forteller-forestillinger, skrive sanger til og sammen med pop-artister som RUBEN, Lokøy, Rebmoe, SKAAR og Amanda Tenfjord, har jeg turnert med artister innenlands og utenlands som pop-stjerneskuddet SIGRID, «Fargespill Bergen», og Konradsen. Jeg har en stemme
med retning, og en evne til å få folk til å stoppe opp en stund når jeg synger eller opptrer. Da jeg spilte to av mine låter under et arrangement hvor filmregissør Erik Poppe skulle samtale, uttalte han fra scenen etter opptredenen: «Jeg kommer alltid til å huske at det var her jeg hørte Thea for første gang. Vi to driver begge med historiefortelling, som rører andre». Gjennom musikken og møtene mine har jeg opprettet profesjonelle forhold med mange musikere, produsenter, låtskrivere og nøkkelpersoner i den norske musikkbransjen. Har spilt inn mitt debutalbum «While he is still asleep» med planlagt utgivelse 2022 på MADE records. Bor Pdd i København hvor jeg holder på å gjøre ferdig min master ved RMC, men har mitt virke i Norge og vil flytte tilbake til Norge januar 2022.
Høyere utdannelse:
2019-2021: Master in Music Performance, Rytmisk Musikkonservatorium, Danmark
2013-2017: Norges Musikkhøgskole – 4årig – kandidatstudie i Jazz-vokal og musikkpedagogikk
EGNE PROSJEKTER:
05.18 – dd      Thea wang
.      (vokal, gitar, efx)
Tekstforfatter à 80 tekster, Konserter i Norge, Danmark og USA.
01.19 – dd Nothing Personal (vokal, elektronikk, gitar)
Tekstforfatter à syv tekster, 8 konserter. Utvalgt til villvillvest og BY:LARM 2021.
02.15 – dd     Daiisy (vokal, efx, synth)
Tekstforfatter à 15 tekster, 50 konserter ved bla. Moldejazz, HEIM-festival, Trondheim Calling, Samfundet, Hulen, Kongsberg Jazzfestival, Vill Vill Vest mm.
MEDVIRKER/FAST-MEDVIRKET:
2019 – dd Konradsen (NO) (Korist)
2018 – dd SIGRID (NO) (vikar-korist)
2016 – dd August Kann (vokal)
2018 – 2019 Behind the Canvas (vokal)
2017 -2019 Wittgenstein in process (komponist, utøver, sanger, tekstforfatter, elektronikk)
2014 – 2018 Lille Balkong/Little Balcony (vokal)
2014 – 2017   Oslo 14 v/Elin Rosseland (vokal)
2010 – 2015 Fargespill Bergen (solist og korist)
DISKOGRAFI/UTGIVELSER: K: komponist, T: tekstforfatter, M: musiker, U: utøver, A: arrangør,
2022 – Nothing Personal, "The diary of Nothing Personal" / "The alchemy of Nothing Personal" (Dugnad rec) – K/T/U/M – coming
2022 – Thea Wang, "While he is still asleep" (Made records) – U/M/A/K/T – coming
2022 – RUBEN – "November love",( UNIVERSAL MUSIC), – T/ K / M – coming
2022 – Rebmoe, "Professors preference", (SONY MUSIC) – M – coming 2021 – Nothing Personal, "One second" (Dugnad rec) – A/M/U
2021 – Ingeborg Walther – "Det er en ting jeg ville si" (TBA) – M 2021 – RUBEN – "Running", (UNIVERSAL MUSIC) – M
2021 – August Kann "Pitbull 2", (MGTM Music)– U/M/A
2021 – Calum Builder, Messe "You Are Where You Need To Be", (ILK records) – M/U
2020 – Marthe Wang – Bakkekontakt – (Bjerke) – T
2020 – Bestillingsverk "Mens jorda snurrer rundt», julesang, (KFUK- KFUM) – K/U/T
2019 – August Kann – "How did All These People Get Into My Room» – MGTM MUSIC, M/U
2018 – Isá – "Våren om lenge" (AMP Records) – M
2018 – Lille Balkong/Little Balcony – "Little Balcony" (AMP Records) – U/M/A/K/T
2018 – Jakobmesse – "Messe under regnbuen" (Kirkelig kulturverksted) – U/M
2017 – Daiisy – "Shilly-Shally" – U/M/A/K/T
2016 – Marthe Wang – "Ut og se noe annet" (Kirkelig Kulturverksted) – M/U
2016 – Oslo14 – Improvisasjon og komposisjon (NORCD/Musikkoperatørene) – U/K/T
2013 – KFUK/KFUM, Barneplate: "Her"- K/T
2011 – Fargespill – "Fargespill" – 2012 – U/M
STIPENDER/GRANTS:
2021 – NOPAs såkornmidler
2021 – Finalist i Musikkprisen 2021
2021 – Komponistenes Vederlagsfond – utstyrsstipend 2020 – Tonostipendet
2019 – NOPAs såkornmidler
2018 – Statens kunstnerstipend for nyetablerte kunstnere, Kulturrådet
2018 – Art recidency in italy, Palazzo Stabile – høst 2018 – Tonostipendet
2018 – Komponistenes vederlagsfond
2014, 2015, 2016 – Benjamin Johannessens familielegat 2015 – Bergen Bys utdanningslegat
2012 – "Grensersprengerprisen", KFUK-KFUM
MUSIKALSKE KONSTELLASJONER HITTIL (et utdrag): 
2021 – Nothing Personal, BY:LARM, Oslo (NO)
2021 – Nothing Personal, Thea Wang & Stephanie Turcotte konserter på Vill Vill Vest, Bergen (NO)
2021 – Øyunn – Copenhagen Jazzfestival, København (DK) 2021 – Thea Wang – Rundetaarn, København (DK)
2021 – Thea Wang, Festspillene i Bergen (NO) 2021 – Thea Wang, Nattjazz, Bergen (NO)
2021 – August Kann, Fanøe Vesterland, Fanø (DK)
2021 – Thea Wang, Musikkprisen, Ålesund (NO)
2021 – Thea Wang, Polarjazz, Svalbard (NO) – flyttet til 2022 2020 – SIGRID, Lollapalooza fesival, Stocholm (SE) – Avlyst grunnet Covid19
2020 – Thea Wang, Sørveiv, Kristiansand (NO)
2020 – Nothing Personal, Sørveiv, Kristiansand (NO)
2020 – Thea Wang, Koncertkirken, København (DK)
2020 – Thea Wang, Ideal Bar, VEGA, København (DK)
2019 – August Kann, Mathias Eick, Kulturkirken Jakob, Oslo (NO)
2019 – Supp. For KONRADSEN i Kulturkirken Jakob, Oslo (NO)
2019 – KONRADSEN, Kulturkirken Jakob og St. Jakob, Bergen (NO)
2019 – Thea Wang m «Big Boss Band", Nasjonal Jazzscene – egne låter arrangert for storband (NO)
2019 – SIGRID, Latitude Festival (UK)
2019 – SIGRID, Isle of Wight (UK)
2018 – Thea Wang, "Colombia University Radio" WKCR NY, New York (US)
2018 – Thea Wang m/ Bergen Unge Kammerorkester, Martin Vinje, HC Dalgaard, Thomas Lossius, U.S.F Verftet, Bergen (NO)
2018 – Thea Wang, "YMCA World Council", Chiang Mai, Thailand (TL)
2018 – "W.I.P – Wittgenstein in process" , Fortellerfestivalen, Oslo
(NO)
2018 – Thea Emilie Wang, BYJAZZ, Oslo (NO)
2018 – Pass!Det smitter" m/Sara Birgitte Øfsti Nesje (NO), Komponist og utøver (NO)
2017 – Jazzkappleik, Nasjonal Jazzscene m/ Christian Winther, Inga Sveas, Christian Meaas Svendsen, Inga Margrete Aas, lead by Per Oddvar Johansen, Hedvig Mollestad (NO)
2017 – FIEH, Blackbox, Gjøvik, (NO)
2018 – Komponert musikk til kortfilm, «TIDE» av Harjinder Grewal(UK)
2016 – R:A:W improensemble, R:A:W Trygve Seim, (NO)
2016 – OSLO14 ft. JøKleBa, Oslo Jazzfestival, utsolgt Universitetets Aula, Oslo (NO)
2017 – Kjartan Lauritzen, BY:LARM, Oslo (NO)
2017 – Fargespill og KORK" (Kringkastingsorkesteret) ved "Det Norske Teater", Oslo (NO)
2016 – "Fremtiden I Norsk Jazz", av Norsk Jazforum, m/ Daiisy, Turné bla. ved Nasjonal jazzscene og Dokkhuset i Trondheim (NO)
2015 – Lille Balkong/ Little Balcony, Kongsberg Jazzfestival (NO)
2015 – Oslo14 og Camille Norment, Ultimafestivalen (NO)
2015 – «RAPTURE» (Camille Norment for den skandinaviske utstilling) (IT), Venezia Biennalen, Italia
2015 – Konserter i "Kvindemuseet" and "RAMA", Århus, Danmark + 4, Improvisasjonskonserter i Helsinki, Finland (DK, FI)
2014 – Ashraf Sharif Khan, Cafeteateret, Oslo (NO)
2014 – "YMCA World Council", Colorado, Rocky Mountains, (US) 2013 – Balejazz and Nattjazz, Solist m/ "Bergen ungdomsstorband" 2012 – Solist m/Fargespill, forbindelse fredsprisutdeling Ann Sann Suy Kyi, Festplassen, Bergen (NO)
2012 – Solist m/Fargespill for H.R.H Prince Charles, Hertuginne Camilla, H.K.H Sonja, H.K.H Harald og øvrige kongefamilie
2012 – ca 20 konserter med "Fargespill", Grieghallen, og Norgesturné 2012 – Konsert m/Gabriel Fliflet, Ole Hamre, Sofie Hamre og Marte Ådland, RICKS
2012 – Solist m/ Bergen ungdomsstorband ledet av Olav Dale, SKI-VM (NO)
VEILEDERE / HATT TIMER MED:
2021   Nina Persson, (The Cardigans), Frode Grytten, Jenny Hval, Bucks Meek (Big Thief)
2020      Torben Snekkestad, Sidsel Endresen, Sondre Lerche, MODDI, Maria Berglund
2019     Charlotte Munck, Torben Snekkestad, Søren Kærgaard,, Kåre Vestrheim
2018   Mentored by Torun Lian and Rune Rebne
2013-2017 Elin Rosseland, Sidsel Endresen, Solveig Slettahjell, Beate Lech, Jon Eberson, Ståle Ytterli og Live Maria Roggen, Helge Lien,, Pål Thowsen, Helge Sunde, Eckhart Bauer, Eyolf Dahle, Morten Qvenil