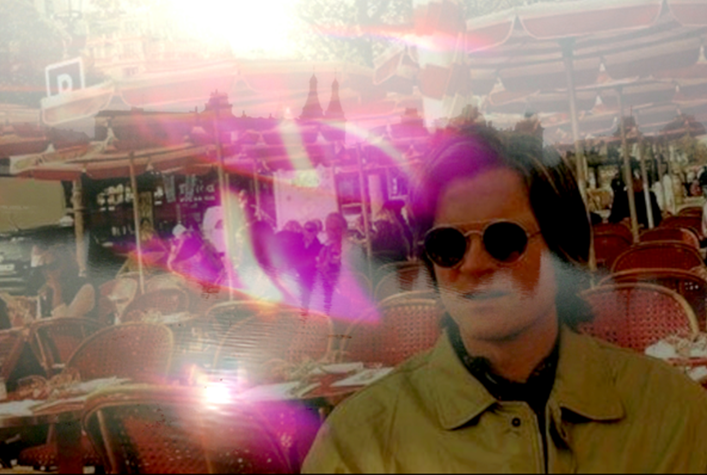 ANDERS HOLST
ARTIST STATEMENT
Expressing my experience as a reflective and sensual human being through sound and music, while experiencing and trying to grasp the world around me through sound and music, is the feedback loop of my life. Through art, I aim to broaden our understanding of mind and body.
In the ritual of making music, I consider the instruments being used sacred objects, objects that are portals that carry certain energy which facilitates the possibility for me to create a transcendental, immersive experience for myself and those engaged in the sound produced, audience and collaborators alike. Intuition, improvisation and imagination are cornerstones of my life, and in music, I work both with composition and spontaneous creation. The guitar is the instrument I happened to fall in love with 30 years ago, and I'm continuously looking to dig deeper into its vast sonic and timbral potential while exploring other instruments of sound at the same time.
Making music is as old as human history on earth, as far as we know, and I like to think about reaching as far back in time as I can in our collective past human experience, while looking ahead, in order to bring the past into the future via the present moment I'm in.
---
DISCOGRAPHY // EXPERIENCE
SOLO RELEASES
Anders Holst – Terra Spirituum (Scissor Tail Editions, 2020)
Shadow Ray – Eyes, Gleaming Through The Night (Rillbar, 2017)
Anders Holst feat. Eske Nørrelykke & Kresten Osgood – Echoes Illuminating The Dark (Blackout, 2011)
CO-LEADER
Cirklen – Genklang (to be released in the fall of 2022)
Bog Bodies – Bog Bodies (to be released on the London based MIR Records, 2022)
Anders Holst/Sofie Birch/Nils Grøndahl – Live at Sort Kaffe & Vinyl. (Kornmod, 2021)
From Isolation – No. 2. With Adam Coney and Duncan Marquiss. (Trestle Records, 2020) Imaginational
Anthem X. A compilation, I contributed with one original track (Tompkins Square, 2020) One Day Band – 24.
With Belle Chen, Thomas Stone & Donna McKevitt. (Trestle Records, 2020)
Bog Bodies – Sligo. A collaboration with Robert Stillman and Sean Carpio (Migro Records, 2017)
Holst/Coppier – Onomatopoeia (Clang Records, 2017)
Anders Holst/Mads Emil Nielsen (Clang Records, 2014)
Shadow Ray & Exit Runner – (single, 2014)
Won't Lovers Revolt Now – Won't Lovers Revolt Now (Morningside Records, 2009)
Franklinstraat – 88a (Gateway, 2009).
The State, The Market and the DJ – The State, The Market and the DJ (PWG records, 2008)
SIDEMAN / CO-PRODUCER / SELECTED WORKS

Jakob Kirkegaard – Klang Farve (Lydkunstværk, 2017)
Nana Jacobi – Expander (Co-producer, Target, 2015)
Mads Emil Nielsen – Framework (Arbitrary, 2014)
Sean Carpio – the WoWos (2013)
LEW – Drenched In Night (20thirteen Records, 2013)
Sara Grabow – Linedanser (Elektriske Optagelser, 2012)
Kristian Rymkier – Signs and Waves (2011)
BIG BODIES
In 2015 I co-founded the trio Bog Bodies with Sean Carpio and Robert Stillman. Here's a list of selected performances and residencies we have done so far:
-November 2019, performance at Union Chapel, as part of Daylight Music/London Jazz Festival, UK.
-February 2018. Residency at Radio Margate, UK.
-February 2018, residency at PRAH Foundation, Margate, UK.
-February 2018, Bog Bodies X Thor Magnusson's Threnoscope, Emute Lab, Brighton, UK.
-June 2017, Oscillate Festival of Experimental Music and Sound, at Turner Contemporary Art Museum, Margate, UK.
-October 2016, "Reproduction on Film", a programme of music and silent films curated by Wellcome Trust/Cambridge University, at Canterbury Festival, St. Mary's Hall Studio Theatre, Canterbury, UK.
-October 2016, musical response to the exhibition "One Day, Something Happens", Towner Art Gallery, Eastbourne, UK.
-November 2015, a participant in GLITCH conference at Canterbury Christchurch University, UK, giving a performance and lecture.
-July 2015, Arts Technology Research Lab (ATRL), Trinity College, Dublin, Ireland.
-July 2015, residency and performances, The Model Arts and Niland Gallery. Sligo, Ireland.
OTHER WORKS AND PROJECTS
-In 2009 I co-founded the ensemble Cirklen with Niels Bjerg, an ensemble consisting of 6 guitar players. The name derives from the fact that we started outperforming our music for electric guitars in a big circle, surrounding the audience. We have played at many venues, art galleries, festivals and theatres over the years.
In 2017 Niels Bjerg and I composed the large scale performance Flydende Rum, the last piece to premiere at Dansehallerne in Copenhagen's old location at Carlsberg Byen, Copenhagen, Denmark.
-Co-composed the piece Genklang with Niels Bjerg, for the ensemble Cirklen. A 60-minute composition for 6 acoustic guitars and choir. Concert premiere September 2020, with MidtVest Pigekor. The piece is being recorded with the intention for a release in the fall of 2022.
-Since 2017 I have had a continuous collaboration with composer Lars Graugaard, exploring spatiality in electronic improvised music, using an omnidirectional speaker setup.
-In 2018-2019 I was the co-editor of the underground music journal OS, co-founded with Kresten Osgood. During one year, 13 editions of the journal were published, featuring interviews with and articles by current composers and artists in the Danish scene for composition, improvisation and new ideas in the field of music and art.
-New music for an animation of Halfdan Pisket's cartoon book Dansker, co-written with Manoj Ramdas. Live premiere at Roskilde Festival 2018.
-New music for Carl Th. Dreyers film Jeanne D'Arc (1928). Performed during Gong Tomorrow and Copenhagen Architecture Festival 2018.
-Artist in residence at 5E, Copenhagen, for the month of March 2017, during which I produced 4 concerts with 4 different constellations.
-Composition and guitarist in the piece CURFEW, The Royal Danish Theatre, 2016.
-Soloist, electric guitar, in the piece "In Life and Love and So On" by choreographer Tilman O'Donell, with the Royal Danish Ballet, 2015.
-In 2016 I co-created the festival Moondog 100 år, with Jeppe Zeeberg, a festival celebrating the American composer Moondog's 100th anniversary, and featuring premieres of than previously unheard music composed by Moondog, along with 6 new pieces written for the event from 6 current composers, curated by Jeppe and I.
-Composition and production of music for the contemporary dance choreography "The Mob & dem der spiser i Versailles", 2009.
-Guitarist in the production "Cirkus Fantastica", a theatre concert by Folketeatret, 2012.
-Co-composition and performance in "Sirener", contemporary dance choreography by Yael Gaathon.
-Since 2011 I have been a board member in the association of the Danish performance group WEGO.
-In 2013-2015 I was a board member in the association of the contemporary dance group The Mob.
-In 2013 I was a board member in the association Homemade Records, an association of 40 musicians and composers who collectively ran a small record store featuring the works of the members in Jægersborggade, Copenhagen.
GRANTS, selected
Margrethe Axelsens Fond, artistic work grant, 2020.
Statens Kunstfond, artistic work grant, 2010, 2011, 2016, 2017, 2018 & 2019.
DJBFA, artistic work grant, 2011, 2012, 2013, 2014, 2015, 2017 & 2018.
TEACHING, selected
2019: Workshop, The Drone Zone at Resort Studios, Margate, UK, curated by Athelstan Sound. With Robert Stillman and Sean Carpio.
2016 & 2017: Teaching a class in Reflection and Improvisation for the preparatory talent programme at Rytmisk Center, Copenhagen.
2007-2015: Teaching guitar and band coaching, along with the role as administrator of the Rhythmic Music department at Frederikssund Musikskole.
EDUCATION
2019-2021: Soloist, RMC, Copenhagen. A 2-year Advanced Postgraduate Degree and artistic research programme.
2010-2012: Accompaniment for contemporary dance, Den Danske Scenekunstskole, Copenhagen.
2000-2004: Candidate in jazz guitar, Koninklijk Conservatorium, Holland.