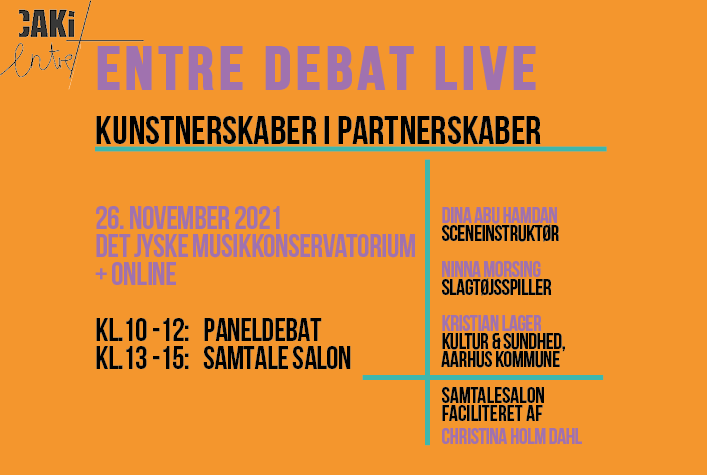 The theme for the ENTRE DEBAT LIVE 4 is 'Artists in Partnerships'. What happens when the artists work for purposes that points to broader artistry in partnership with others?
We have invited three talented persons to talk about this Friday the 26th of November. The panel discussion is followed by a conversation salon facilitated by Christina Holm Dahl from the Danish National Academy of Music. Here, we will continue the conversation based on the role as an educator at an art school. 
ENTRE DEBAT LIVE 4 takes place at the Royal Academy of Music in Aarhus in room 228. Sign up by sending an email to caki@caki.dk
OBS: the live stream of the event has been cancelled, but the conversation will be released as podcast. 
---
The Guests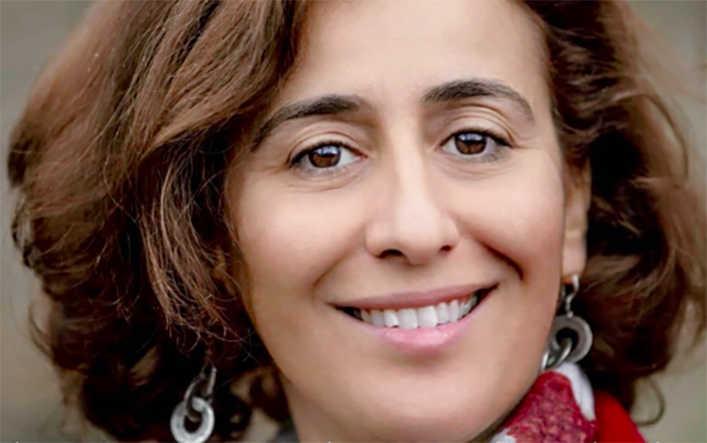 Dina Abu Hamdan is a theatre director and choreographer. She is a multidisciplinary art director, cultural development consultant and producer who specializes in working in the communities/spaces between local communities and professional artists, among other things through creating networking events and performances. She has a portfolio of both small and large ensemble performances as well as large outdoor performances and events – in Denmark additionally as internationally.
Dina founded ILITA Immersive Lab for Innovation in Theatre and Archive, a strategic ongoing project associated Nordisk Teaterlaboratorium / Odin Teatret. she was artistic director of the official closing ceremony for Aarhus 2017 European Cultural Capital and "Sugar Town" play, which marked the 40 years for the Carlow Arts Festival in Ireland,  and she is currently leading the "Train project" for the Carlow Arts Festival / Ireland 2022.
Together with social performance artist Inge Agnete Tarpgaard, Dina Abu Hamdan is currently a house artist in the culture department in Ringkøbing-Skjern Municipality, where they as artists are with the municipality's engine room in the work with the municipality's cultural strategy for children and young people.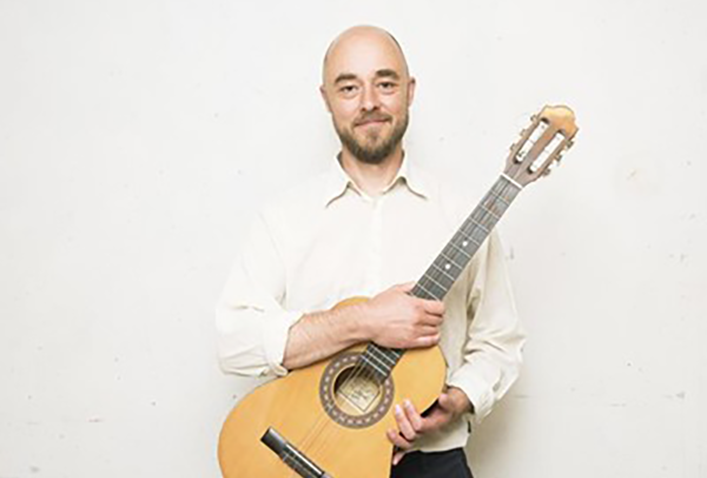 Kristian Lager is a conservatory graduate guitar player and middle school music teacher. He is also the program cordinator for 'Kultur og Sundhedsplan' in Aarhus commune. At his work, Kristian works e.g. with the Culture and Health pool, which shall be used to engage as many as possible of the citizens of Aarhus commune, who with the help of culture can get a boost of their health and well-being. At the event for ENTRE DEBAT will be asking Kristian which meetings he has with the artists and which artistry are interesting for him to meet in his work as a program coordinator. Does his placement call for a position as a kind of translator between the institution and the artists, or how does he experience his work with the Culture and Health Pool?
Read more about Aarhus Commune's plan for Culture and Health here, where you can also find more information about the pool, a case collection to inspire future work in the field, and other relevant information.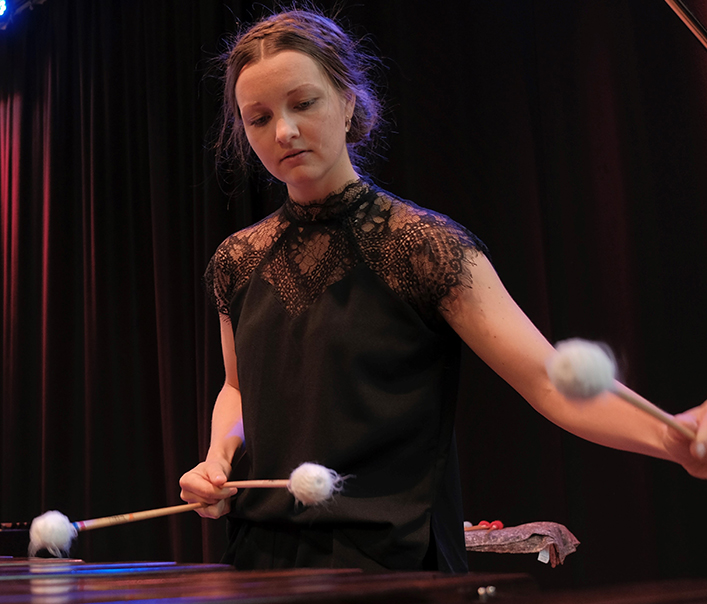 Ninna Morsing trained as a classical percussionist at the Royal Academy of Music in 2020. She wrote her master's thesis about music at the intensive care units at Aarhus University Hospital with Margrete Langer Bro as her supervisor. She has carried on the thesis further in her art, i.a. when she plays concerts in the children's department at AUH. We will talk with Ninna about what it takes to make her art available for other purposes, the extent to which she has been prepared for it during her education, and what she thinks it takes if the art schools are to support the students getting dressed for this kind of collaborations and partnerships.
A part of Ninna's work is currently unfolding in 'Ninna's Orchestra', which with the children's concert "The Story of the 4 Elements" tours Denmark through the program Levende Musik i Skolen. In the latest issue of Part of Ninna's work is currently unfolding in "Ninna's Orchestra", which with the children's concert "The Story of the 4 Elements" tours Denmark through the program Live Music in School. In the latest issue of MUSIKEREN you can read an article about Ninna's work.
---
ABOUT ENTRE DEBAT LIVE
As an educator, researchers or students at an art school we must ask ourselves what quality and relevance are in the artistic practice and company, and how this positions itself in relation to the outside world.
To support and develop these reflections we have invited a number of interlocutors who are in various ways in contact with the artistic educations and the cultural sector more broadly, to discuss the issue of external relations in the artistry and artistic enterprise. ENTRE DEBAT LIVE is part of the entre program, which supports the development of entrepreneurship as a field of knowledge in higher artistic education.
REGISTER
Send us your name, which art school are associated with as well as whether you are joining IRL or online.
Send to CAKI@CAKI.DK
ENTRE
Learn more about the ENTRE program here.
CONTACT
pernille@caki.dk // +45 27 37 75 67