Photo credit: Liv (Mads Fisker) and Magnus (Martin Dam Kristensen) 
---
At ENTRE DEBAT LIVE, we talk about external relations to the artistic and pedagogical practices and the artistic research that takes place in the art schools. 
This year's second ENTRE DEBAT LIVE takes place 8th September 2022 in the concert hall at The Danish National Academy of Music in Odense at 3-5pm. This time we will ne talking about release formats and infrastructures: What is needed to explore an expanded field of practice and work, and what does it take for the arts educations to support the possibilities for wider engaged practice?
We have invited three guests to join the conversation. They each work in different ways with artistic practice in an expanded field. They do not stay within locked genres or formats, and they are interested in purposes that go beyond the artistic practice – such as climate challenges, creative power and mental well-being in relation to the working conditions you have as an artist.
---
GUESTS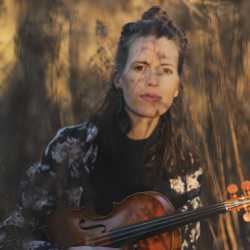 Liv Vester Andersen is a violin graduate from the Danish National Academy of Music (Academy of Music and Dramatic Arts). Liv is a freelance musician and works as a violinist and singer/backing vocalist. She works regularly for theatre productions and plays with various artists at all kinds of musical venues. Her debut concert performance ´Creative – without Nature?´ has been selected for the Artistic Research mentor programme at the Center for Knowledge in the Arts, 2021-2022.
Read more about Liv here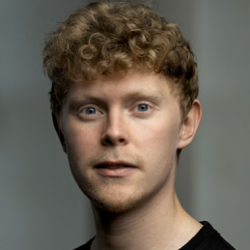 Magnus Bruno is a musical graduate from The Danish National School of Performing Arts´ Musical academy. In his graduation project, Magnus focused on the potential he sees musicals as an art form in context as a form of expression for difficult and destructive emotions. Magnus took part in RØRELSER, the art schools' joint podcast, where he describes his work with musicals as a form of expression.
Find the podcast episode here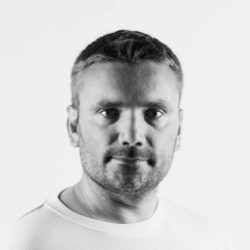 Radek Wośko is a rhythmic solist from the Academy of Music and Dramatic Arts, PhD in music from the Academy of Music in Poznan, Polen. Radek is a drummer, composer, songwriter and organizer. Radek is the leader of different projects from trio, quartets to large ensembles, primarily Radek Wośko Atlantic Quartet and Radek Wośko Upbeat Orchestra. Radek was the Grand Prix Winner of the 49. International Jazz Nad Odrą Festival in Wrocław, Poland (2013). He was the receiver of the Entrepreneurship Prize from the Danish Musicians' Union (2016).
Read more here
---
ABOUT ENTRE DEBATE LIVE
​This year's second ENTRE DEBATE LIVE will take place on 8 September 2022 at the Danish National Academy of Music in Odense. The conversation will also be live-streamed on CAKI's youtube channel. A link to the channel can be found here.
In our series of conversations about how artists today can unfold in sustainable working lives, we have come to talk about publishing formats and infrastructures. We need to talk about what it means to work with artists in an expanded field – when practice is not maintained in genre or formats. And we ask what happens when one is interested in purposes that reach out to the artistic practice and let them inform its work.
As with the other ENTRE DEBATE Live conversations, we must also talk about what it takes for the art that develops during the education to also have growth conditions for exploring an expanded field of practice and work. How can the artistic educations support the possibilities for broader committed artists?
ENTRE DEBATE LIVE is part of the ENTRE program, which supports the development of entrepreneurship as a field of knowledge in higher artistic education.
SIGN UP
Sign up for IRL or stream – send an e-mail to caki@caki.dk
VENUE
The Danish National Academy of Music, Odense, Koncertsalen
Thursday 8. September kl.15 -17
COMING EVENTS 2022
KULTURMØDET MORS - SAMFUNDSKONTRAKTEN + INKLUSION & DIVERSITET, 25. + 26. August, Mors
ENTRE DEBAT LIVE 6 - RELEASE FORMATS AND INFRASTRUCTURES, 8 of September 2022, 3-5 pm, Odense
ENTRE SEMINAR - PERSPECTIVES OF THE WORLD, 15 of September 2022, 10-4 pm, Odense
THE ARTS EDUCATIONS & CULTURAL LIFE OF THE FUTURE, conference, 29. October, Copenhagen
ENTRE DEBAT LIVE 7 -ARTISTIC ENTREPRENEURSHIP, 03 of November 2022, 3-5 pm, Aarhus
ENTRE SEMINAR - THE PERSONAL LEADERSHIP, 24 of November 2022, 10-4 pm, Aarhus
See previous events here