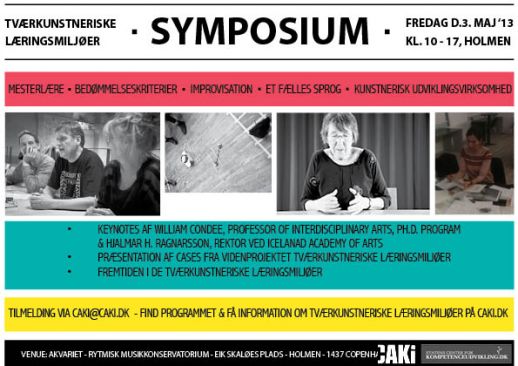 SYMPOSIUM ON INTERDISCIPLINARY ARTISTIC LEARNING ENVIRONMENTS
Friday May the 3rd 2013 CAKI was co-host of the Symposium on Interdisciplinary Learning Environments.
The symposium invited teachers from the artistic and cultural educations, who have an interest in interdisciplinary practice and learning.
At the symposium, several cases of knowledge project Interdisciplinary Learning Environments were presented.
There were also presentations by among others Hjalmar Ragnarsson, principal at the Iceland Academy of the Arts and William Condee, professor at the School of Interdisciplinary Arts, a Ph.D. program at Ohio University.
WHEN
Friday, May 3rd 2013
WHERE
Rhythmic Music Conservatory
Eik Skaløes Plads 1
Holmen
CONTACT
For more information contact CAKI:
Telephone: 41 88 25 88
E-mail: caki@caki.dk