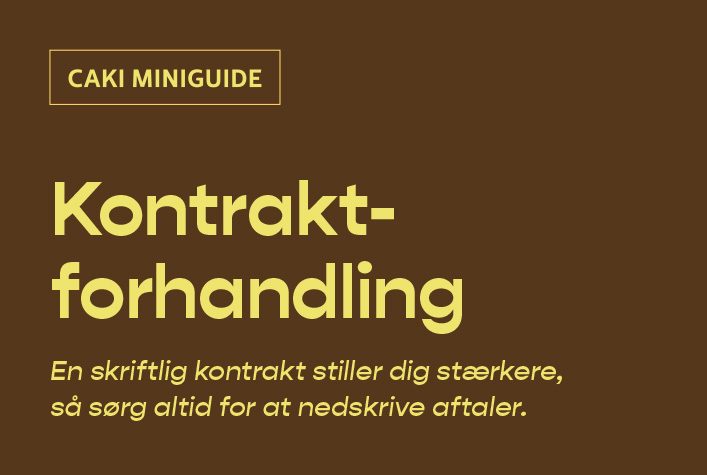 Contracts and negotiation
If misunderstandings are to be avoided, a verbal agreement or handshake is simply not enough. This CAKI Miniguide provides advice for artists and creatives considering entering into a contract or written agreement.
"Could you just give it one more shot?" You're on the sixth round of revisions, and that "really quick" and "super easy" job has turned out to be a much bigger time commitment than you could ever have imagined. Considering the number of hours, the 5,000 DKK honorarium doesn't amount to more than the hourly wage of an underpaid intern. The trouble is that you agreed to the job during a rushed phone conversation, and now you're left powerless and with the feeling of being cheated.
The situation described above is one many artists and freelance creatives are likely to recognize, and it illustrates a particularly important point: You must have clear agreements regarding your payment and working conditions – and you need them in writing. And that goes for freelance projects, long-term projects, as well as working for or with your friends.
Four Factors to Consider:
Any time you enter into a transaction in which a party purchases your services for a long or short period, everyone requires a contract. And contract negotiation is the best time to set your price and define expectations. Before you sign anything, CAKI recommends that you consider at least the following four factors:
Defining expectations
Conditions
Price
Contract
Defining expectations: What are you providing?
Define both parties' goals, wishes and needs. Create a project description and make it as narrow and specific as possible. Address every aspect of the services involved, including research and how many revisions are included. A good, precise project description is essential if conflicts arise between the parties.
Conditions: Under what conditions will the project be fulfilled?
Define the project's scope based on the goals, size/duration, participants, product and service, deadline, price, time of payment, and any special considerations that must be addressed. All conditions can be adjusted depending on the price and the specific task.
Price: What is it worth?
Determine the project's price. Many do not know the value of artistic services and products, so you have to be able to show and explain to the customer what your work is worth. Carefully consider your price by comparing it to how much others in your branch are charging for the same service or products and consult your trade union if necessary.
Also, remember that value can be many things. If the wages are low, you can negotiate working hours, flexibility, place of work, vacation, maternity leave, pension and other valuables.
Contract: Getting the agreement in place
It is generally the employer's responsibility to provide an adequate contract. If the employer has an agreement (Danish: overenskomst, meaning that they have made accords concerning salary and employment conditions), they can simply use their standard contract of agreement. If you are hired by an employer without an agreement (overenskomst), pay particular attention to the things that are not in the contract, since those things are usually not applicable.
Find your standard contract:
CAKI recommends that you always consult the standard contracts of your field. Standard agreements must be adjusted since they do not fit every situation. If you are a member of a trade union, the union is usually at your service to help you shape the specific contract.
See the infoboxes for links to several standard contracts (not all are in English).
See the infoboxes for links to several standard contracts (not all are in English):