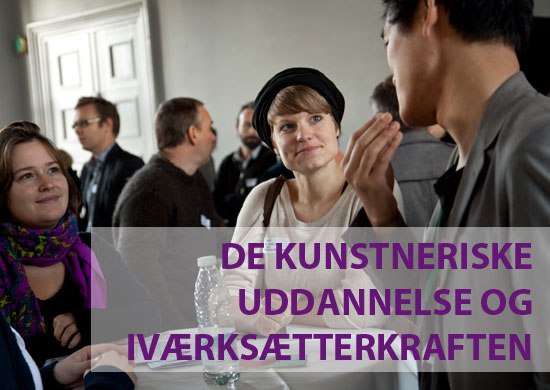 The art educations and the entrepreneurial force
November 15 2011 at the Royal Academy of Fine Arts
A collaboration between CAKI, Youth Enterprise, KUR and The Ministry of Culture.
The programme for the conference consisted of talks and input from Bertel Krarup, Principal at The Royal Danish Academy of Music, Uffe Elbæk, Minister of Culture, Pernille Berg, Head of Research at KEA, Rune Fjord from Rune Fjord Ltd , Lene Kobbernagel from The Danish National School of Performing Arts, Rikke Lund Heinesen development consulant at The Danish National School of Performing Arts, Thomas Binder, lecturer at The Royal Academy of Design and Henrik Seidahl, Principal at The Rhythmic Music Conservatory.
In her recapitulation after a successful conference, moderator Pernille Berg said:
"To recap a day like this, where we have gone from discussions on the essence of art to talk about the education institutions' responsibility and "raison d'etre" is quite a task. But let me give a try.
As I mentioned earlier during the panel debate, my own research has shown that what characterizes a successful entrepreneur is the same that characterizes a successful artist."
Read Pernille_Berg's recap.
And check out videos of the conference speakers on our youtube channel.
WHERE
November 15, 2011, at Schools of the Visual Arts.
READ MORE
Read Pernille Bergs recap.
Watch videos from the day at cakikbh.
CONTACT
For more information contact CAKI:
Telephone: 41 88 25 88
E-mail: caki@caki.dk