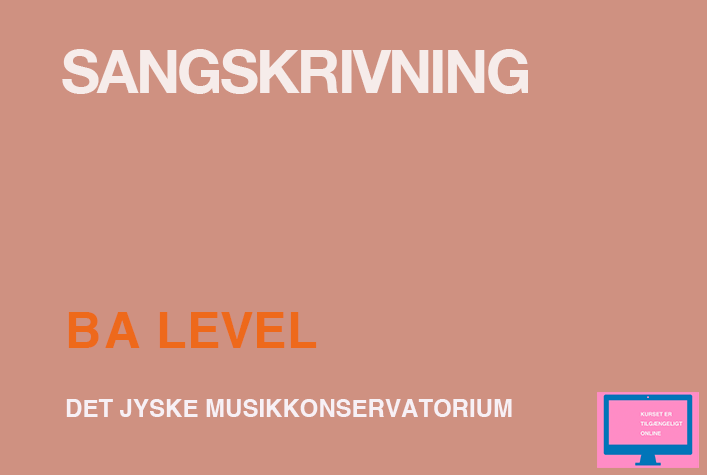 Songwriting – focusing on lyrics

The course will focus on both creative writing of lyrics and theoretical knowledge of text, form, and analysis. The student builds a language for feedback and critical reflection and, through the subject, examines his own personal language that suits his/her artistic practice.
---
PREREQUISITES
None
---
LEARNING OUTCOMES
Upon completion of the course the student:
Can express him or herself in a relevant and personal manner through lyrics
Has experience with methods of writing lyrics and can apply them to his/her own practice
Is familiar with theories of poetry, prose and textual analysis
Can handle complex and unpredictable creative challenges in artistic processes
---
TEACHING AND WORKING METHODS
Class tuition. At the end of the course, 3 pieces of lyrics are submitted that have been independently prepared by the student in connection with the course. In the case of co-writers, the student's share of the work is explained. An overview must also be provided, presenting each piece of lyrics. The lyrics are jointly evaluated on the team
---
GROUP FORMATION
10 students, maximum 5 external students
---
ASSESSMENT
Certificate with the evaluation Approved/Not approved. This certifies that the objectives have been achieved at a level at least corresponding to a Pass, and that current attendance rules have been followed.
---
REFERENCES
TIME
One semester BA: 2,4,5 or 6. th semester to be agreed with the teacher
PLACE
Det Jyske Musikkonservatorium
ONLINE
YES
LEVEL
BA-level

ECTS
5 ECTS
LANGUAGE
Danish – English if required by participants