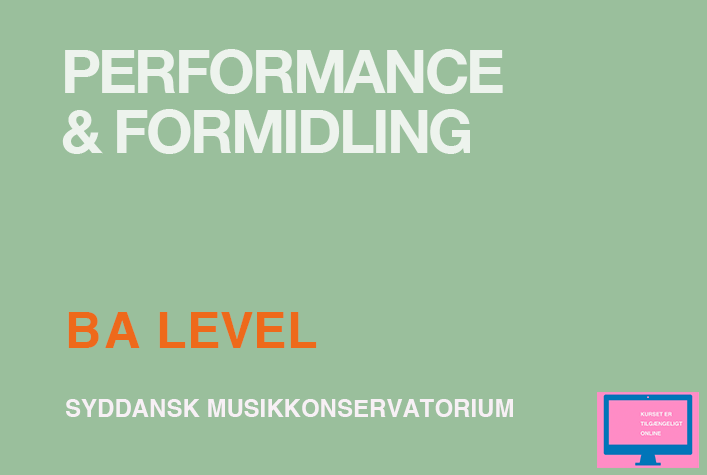 Performance and dissemination
Teacher: Bent Nørgaard
---
PREREQUISITES
Interest in dissemination of artistic expressions.
---
LEARNING OUTCOMES
At the end of the module, the student shall:
have gained basic methodological knowledge of and experience with collective creation of works
have gained knowledge of the most central concepts within dramaturgy
be able to work on conceptualising and developing a coherent concert programme
have gained knowledge about own stage performance, and how this can be used either compositionally or performatively
able to use dramaturgical methods to analyse concerts, own works and concrete dissemination issues
be able to conceptualise and present a concrete dissemination project, where sound is the principal element
be able to reflect on own artistic practice
be able to present own projects to potential collaboration partners
have experience with stage performance
be able to participate in different types of artistic work contexts
be able to use tools for production management
---
CONTENTS
Work will be performed in the following areas:
devising and collective co-creation
stage expression parameters (lighting, sound, movement, etc.)
basic principles of concert dramaturgy (which can be transferred to composition)
production planning/management
performance and presentation techniques (oral and written)
conceptualising of work/performance based on dramaturgical principles of principal idea, image, sound, movement
experience-based dissemination of sound
---
TEACHING AND WORKING METHODS
Individual and group lessons.
Attentive: The module can be taken in part via distance learning using Zoom. Some lessons require attendance.
---
GROUP FORMATION
Approx. 10 students. Space for 10 distance students.
---
ASSESSMENT
Certificate subject – passed/not passed at attendance.
---
ECTS
0
REFERENCES
REGISTRATION
If you wish to participate in one of the TVAERS courses, you must enter up to 3 priority course requests. You can wish max. 2 courses and you will receive a reply no later than the 10th of August on whether you have a place on a course. Deadline for registration is July 1st.
To enter your wishes CLICK HERE.
TIME
Not scheduled yet – two semesters, 18 lessons – approx. two hours per lesson.
PLACE
Syddansk Musikkonservatorium, Esbjerg.

ONLINE
Partially online
NIVEAU
BA-level

ECTS
0
LANGUAGE
Danish