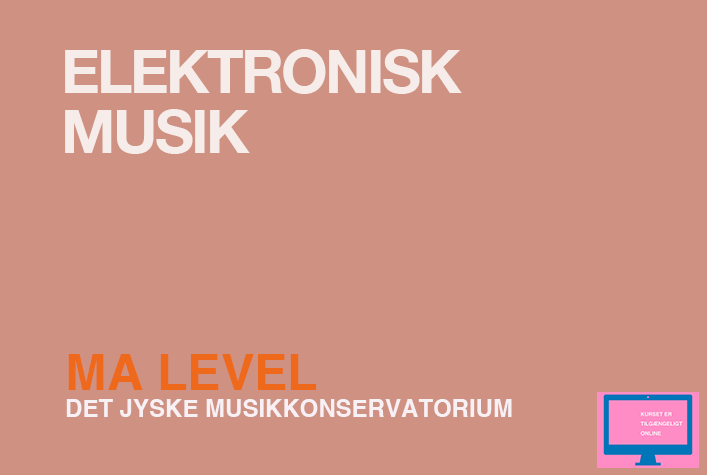 Electronic music

Tuition includes practical and theoretical work on various disciplines within electronic music.Perspectives through theoretical presentations and discussions of subjects and cases relevant to the subject. Various approaches to composition, sound generation, and sound processing. Communication of deliberations on aesthetics, sound, and other creative methods through reflected presentations and exercises. Practical exercises based in part on student compositions, in part on assignments handed out during classes. Relevant literature is included.
---
PREREQUISITES
None

---
LEARNING OUTCOMES
At den studerende ved afslutningen af modulet:
Besidder kendskab til tekniske virkemidler inden for Elektronisk Musik
Besidder kendskab til analytiske og reflekterede tilgange til komposition af Elektronisk Musik
Kan træffe reflekterede valg og sætte egen faglighed i spil i kreativt samarbejde med fagfæller
Selvstændigt kan strukturere egen tid og arbejdsindsats og håndtere uforudsigelige og kreative udfordringer
Formår at tage ansvar for egne specialiseringsmuligheder og kreative udviklingspotentialer
---
TEACHING AND WORKING METHODS
Class tuition and group work
Tuition takes the form of practical exercises and theoretical presentations/discussions
Distance learning is possible.
---
GROUP FORMATION
7 students, maximum 3 external students. More classes are created.
---
ASSESSMENT
Examination content
By the date communicated by the Study Administration, the student must hand in 3-4 productions (total playing time: max. 20 minutes) created solely by the student during the study period, and a report (3 to 6 pages excluding annexes) with a short account of each production and the working process involved.
The productions and the report are to be handed in on a relevant website.
The examination consists of a 20-minute interview on the material handed in.
Examination format
Report, audio documentation, and oral presentation.
Total duration including deliberation: 35 minutes
Marking and evaluation
Internal marking. Pass/fail.
The assessment must reflect to what extent the objectives have been achieved.
---
REFERENCES
TIME
Two semesters on MA: 1st to 2nd semester or 3rd to 4th semester
PLACE
Det Jyske Musikkonservatorium
ONLINE
YES
LEVEL
MA-level

ECTS
10
LANGUAGE
Danish – English if required by participants