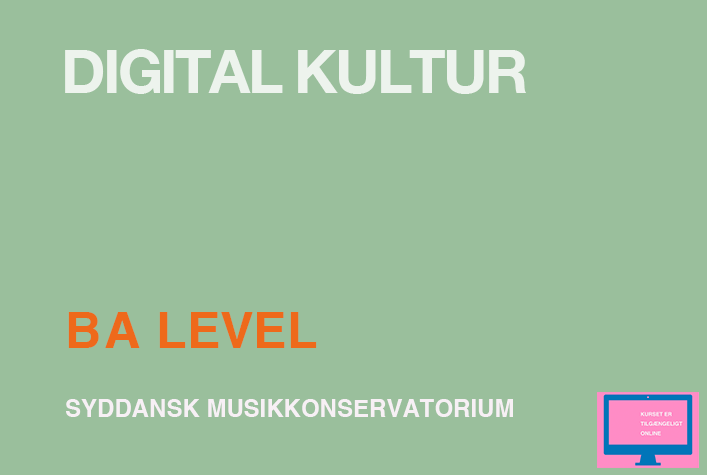 Digital culture

Teacher: Rune Søchting
The teaching describes the role of technology in various art genres within contemporary art.
---
PREREQUISITES
General interest and a desire to work seriously on the subject.
---
LEARNING OUTCOMES
At the end of the module, the student shall:
be able to analyse and reflect on key artistic and cultural phenomena in digital culture
have gained insight into artistic practices that involve and reflect on the role of technology in artistic practice – both how new technology opens up for cross-media and cross-aesthetic genre phenomena, and how technology can be the basis for the formation of new aesthetic strategies and meetings between the audience and the work
be able to reflect on own practice in the light of current trends in contemporary art and music
---
CONTENTS
Work will be performed in the following areas:
the role of technology in various art genres within contemporary art
central theoretical and artistic positions in the 20th and 21st centuries
---
TEACHING AND WORKING METHODS
Teaching takes place as group lessons (all year groups) and is built on the following course:
lectures
practical tasks
presentation
discussion
evaluation
Attentive: Can be taken in part via distance learning using Zoom. Some lessons require attendance.
---
GROUP FORMATION
10-15 students. Space for 5 distance students.
---
ASSESSMENT
Certificate subject – passed/not passed at attendance.
---
REFERENCES
TIME
Fall semester – 5 lessons of 1 hour
PLACE
Syddansk Musikkonservatorium, Esbjerg.

ONLINE
Partially online
LEVEL
BA-level

ECTS
5 ECTS
LANGUAGE
Danish
REGISTRATION
If you wish to participate in one of the TVAERS courses, you can register 1 or 2 course requests.
Before the course begins, you will be notified as to whether you are offered a place on the course.
Deadline for registration for the Fall semester 2021 is June 15th