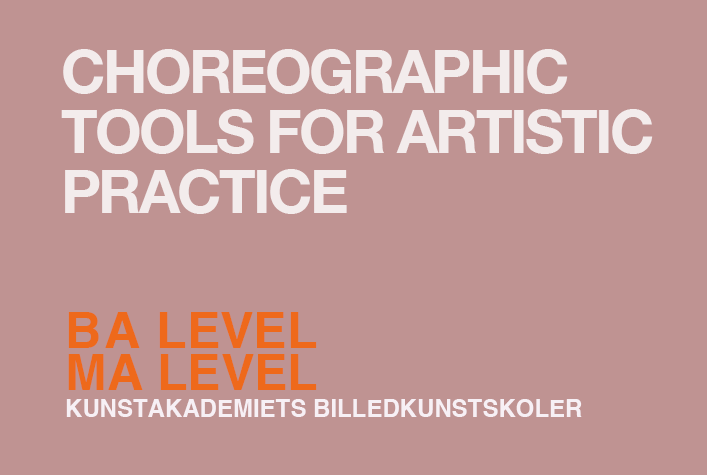 Choreographic Tools for Artistic Practice

Underviser: Bahar Fattahi

These sessions will provide a space for artist practitioners from different backgrounds to embark on the topic of choreography and the possibilities it offers as a methodology for creative thinking and practice. As such, no prior experience of dance practice is required.
The course is an opportunity for creating and thinking collectively through a series of playful yet careful ways of relating to one another, our own bodies and our practice. Our gatherings will introduce a collection of processes and together we will explore the direction we want them to take. In each session we will work on one or two different ideas related to choreographic practice. We will write individually and communally, use speech, write manifestos, create social structures, play games and "perform" our experiences.
---
FORUDSÆTNINGER
None
---
LÆRINGSMÅL
By the end of the module, the student will:
– have gained experience in using choreographic tools in their creative process.
– have gained experience in collaborative processes.
– have explored and developed performance skills.
– have had the opportunity to participate in an 'open studio' format.
Contents
We will work with the following areas:
Choreographic practice
Artistic ideation
Embodied knowledge
Performance
UNDERVISNINGS- OG ARBEJDSFORMER
Video materials
Physical exercises
Communal writing
Scores and games
OBS: Kurset kan ikke tages online.
---
HOLD
–
---
BEDØMMELSE
Self evaluation
---
REFERENCER
Oplyses af lærer i forbindelse med modulet.
TIDSPUNKT
February 26th, March 26th, April 16th, April 30th, May 14th
10-12:00 and 13-15:00
STED
Det Kongelige Danske Kunstakademi 
ONLINE
NEJ
NIVEAU
BA + KA-niveau

ECTS
3
SPROG
English
TILMELDING
Hvis du ønsker at deltage i et af TVAERS-kursus, kan du tilmelde dig 1- eller 2-kursuser.
Inden kursusstart får du besked om du har fået tilbudt en plads.
Tilmeldingen åbner den 3. juni.
Sidste frist for tilmelding til efterårssemesteret 2022 er d. 17. juni
Du tilmelder dig via dette link