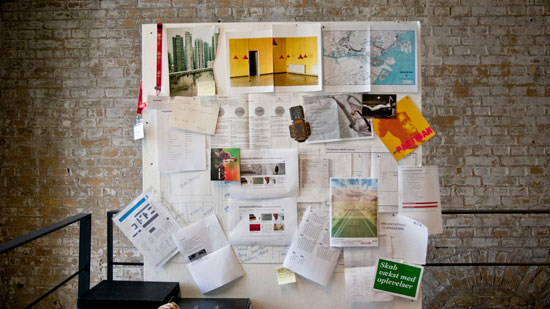 About CAKI – Centre for Applied Artistic Innovation
CAKI is a knowledge centre for the arts educations. At CAKI we work to strengthen the professionalisation of students with the goal to aid them to a professionally sustainable and economically viable working life. This we aim to do via activities focusing on interdisciplinarity, entrepreneurship and artistic innovation.
Every year some of the best arts professionals graduate from the arts educations. In order to increase their opportunities for a sustainable working life, it is important that they already as students get the chance to built up knowledge and competencies, which can strengthen their entrepreneurial skills from the position of their artistic platform, as well as gaining experience with collaborations across the artistic disciplines and surrounding industries.
Therefore, the purpose of CAKIs activities are to complement the students' artistic education by offering consultancy, courses and workshops on topics such as fundraising, self- and project management and start-up business. CAKI also contributes to the ongoing development and implementation of entrepreneurship-oriented approaches in arts education, such as development of new courses, entrepreneurial learning goals and mentor programs.
As a knowledge centre, CAKI collects and disseminates knowledge regarding entrepreneurship in the arts educations as well as in a broader educational perspective.
CAKI's focus areas
CAKI works within three focus areas: entrepreneurship, interdisciplinarity and artistic innovation.
Entrepreneurship
CAKI offers courses and workshops as well as individual counseling for students and teachers on professionalisation complementary to the respective artistic disciplines. CAKI has also published a series of handbooks on subjects related to entrepreneurship.
CAKI also collects and disseminate knowledge regarding entrepreneurship in the arts educations, such as teaching experiences, examination forms and evaluation of entrepreneurship education in the arts educations.
Read more about CAKI's focus on Entrepreneurship.
Interdisciplinarity and innovation
Interdisciplinarity is a natural part of the reality, the majority of graduates from the arts educations will meet as professionals. Therefore CAKI is offering a variety of activities, which can help build competencies that enable professional collaboration across the arts, sectors and areas of knowledge. Similarly, skills in working interdisciplinarily are an important component of innovative processes and the artistic professionalisation in general. In interdisciplinary collaborations the artistic and creative competencies can be vital tools for innovation, which can be relevant across sectors and business areas.
Read more about CAKI's focus on Interdisciplinarity and Innovation.
Financial support to projects
CAKI manages a small pool of money that can be applied for by students from CAKIs member schools. The approved projects must enhance the students' competencies in entrepreneurship and / or interdisciplinarity.
Read more about CAKIs Project Fund.
Organization
CAKI is organised under the Danish Ministry of Culture and is managed by The Rhythmic Music Conservatorium. The CAKI office is located at the Royal Danish Academy of Fine Arts.
CAKI works with a reference group of the principals of the arts educations, which are members of CAKI. As such, CAKI serves as a membership organisation consisting of 11 members divided into A- and K-members (associated- or full membership).
CAKI was established in 2011. It originating in Workshopscenen, which since 1996 had been an arts educations network for interdisciplinary projects.
CAKI has an office at the Royal Danish Academy of Fine Arts in Charlottenborg, Kongens Nytorv 1, 1050 Copenhagen K. See here for how to find us.
Read more about CAKIs organisation and members.
Objectives and results
CAKI is an inter-institutional collaboration, which is anchored at the Rhythmic Music Conservatory. CAKI's tasks appears in the framework agreement for RMC and reads as follows:
'Via the focus areas of entrepreneurship, innovation and interdisciplinarity CAKI aims to help strengthen the professionalisation of graduates from the arts education and thereby enhance their opportunities for a sustainable working life.'